A lot's happened!' Thirty Seconds To Mars promise 'a lot of changes' and more maturity on new album
Bang Showbiz
13 September 2023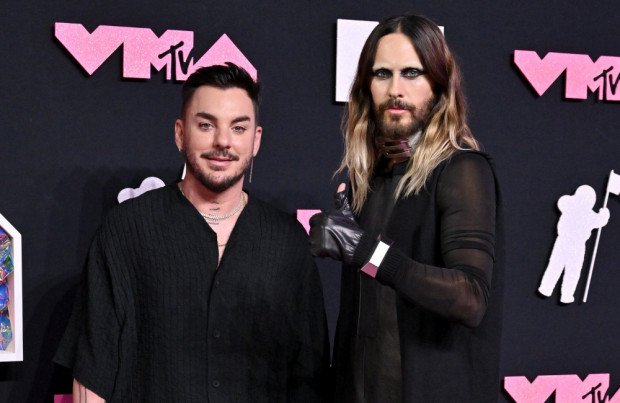 Thirty Seconds To Mars brothers Jared and Shannon Leto have teased "a lot of changes" on new album 'It's the End of the World But It's a Beautiful Day'
Thirty Seconds To Mars have promised "a lot of changes" and maturity on their new album.
The 'From Yesterday' rockers – made up of brothers Jared and Shannon Leto – are set to return with sixth album 'It's the End of the World But It's a Beautiful Day', and they have given fans a hint of what to expect.
Speaking on Tuesday (12.09.23) at the 2023 MTV Video Music Awards, Jared said: "We are celebrating three days until the album comes out, and we couldn't be happier."
Shannon teased "a lot of changes, a lot of growth and a lot of maturity" in the new material.
His actor and singer brother added: "It's been five years, you know, a lot's happened, the world had a little bit of a hiccup.
"We all had a little time in those early days of COVID to think about our lives and the future.
"But for us... this is our sixth album, and we're just struck with gratitude that we get to make music for people, we get to tour the world [and] we get to continue to make music with each other."
Jared previously revealed that when it came to the new LP – their first studio collection in five years – the brothers wanted to try things they've never done before.
He told the 'Smallzy's Surgery' podcast: "Art is that kind of experience, it's very subjective.
"But we wanted to start from the beginning, we wanted to do things that we haven't done before and I feel like we've really accomplished them.
"This album is a new beginning, it feels like a new band."
The band announced the album news earlier this year alongside the video for the lead single 'Stuck'.
Jared – who directed the promo – said in a statement: "Thanks to my incredibly creative mother, my brother and I were instilled with a love for art and photography from a very young age.
"The video for STUCK, our first new song in five years, is a love letter to some of my favorite photographers.
"Artists who made a very deep impact on me like Richard Avedon, Irving Penn, Robert Mapplethorpe, Diane Arbus, Herb Ritts and more."