Katy Perry's monkey trouble
Bang Showbiz
19 March 2009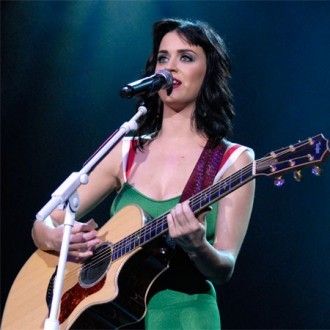 Katy Perry was left red-faced when a chimpanzee "peed all over her" while she was posing for a magazine shoot
Katy Perry was mortified when a chimpanzee urinated on her.
The 'I Kissed A Girl' singer was posing for a magazine shoot, when the lively animal - which was on the set for the photo shoot - relieved itself on her.
She wrote on her blog: "Jeremy Scott is one of my all time favourites and he shot the pictures while I got to prance around in his creations. I had a chimp on set with me that day. Fun fact, she peed all over me, I had to take a silkwood shower in the middle of shooting."
Katy is not the first celebrity to have an unfortunate encounter with a chimpanzee.
Last year, it was revealed Christina Ricci had been sexually assaulted by an animal on the set of her movie.
The actress, who already had a phobia of the animal, revealed Chim Chim grabbed her left breast while she was filming 'Penelope'.
Christina - who played a woman born with a pig's nose in the movie - said: "I'm afraid of monkeys, but I had decided not to be afraid of Chim Chim because no one else is. I thought, 'Everyone else thinks he's awesome so just be cool.'
"It's the first day of shooting and I have this kitchen scene where I'm sitting down and Chim Chim is sitting right next to me. Of course, it freaks out during the take and grabs my left breast and will not let go, and he's so strong."