Amy Pond's Doctor relationship revealed
Bang Showbiz
23 September 2010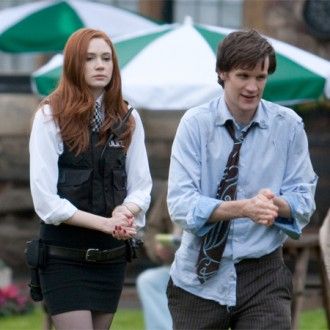 'Doctor Who' pals Amy Pond and The Doctor will make viewers ''gasp'' when the ''true nature'' of their relationship is revealed
The Doctor's relationship with Amy Pond is to be exposed in an upcoming 'Doctor Who' episode.
Sci-fi show boss Steven Moffat has revealed how fans of the show will "gasp" in amazement when the "true nature" of the friendship between the Time Lord - played by Matt Smith - and his assistant Amy (Karen Gillan) will be revealed in a mysterious new storyline.
He said: "You'll see The Doctor's life change for ever. You will gasp as the true nature of his relationship with Amy and cry out in horror as Rory Williams stumbles to the brink of a tragic mistake."
Amy's fiance Rory (Arthur Darvill) recently arrived in the show, and the couple's relationship was boosted with the help of The Doctor.
However, the three characters will soon be caught up in an "enormous" mystery cliffhanger.
Steven explained to Doctor Who Magazine: "It is an enormous, game-changing cliffhanger for The Doctor, Amy and Rory. It'll change everything for them."
Arthur has previously stated he believes his alter-ego and Amy's romance will last, because they have known each other their entire lives and understand one another.
He said: "They grew up together. They started as best friends. It's one of those strange relationships - Amy's a kissogram and Rory's kind of alright about it, as much as he's never going to say that he isn't. He can't believe they're together, and I think she brings out a much more adventurous side of him than he would normally show.
"They have the shared bond of The Doctor. Everyone else thought Amy was crazy and making this guy up, but Rory's always been very supportive of her - because he loves her."