Vic Reeves and Bob Mortimer reveal dream guests
Bang Showbiz
1 February 2011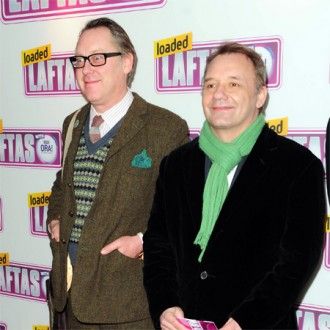 Vic Reeves and Bob Mortimer are hoping to secure Pierce Brosnan, Liam Neeson and Rod Stewart for the next series of 'Shooting Stars'
Vic Reeves and Bob Mortimer want Pierce Brosnan and Rod Stewart to appear on the new series of 'Shooting Stars'.
The comic duo are currently writing the eighth series in their BBC2 comedy panel quiz show, and admit they don't think they will be able to attract the guests they are hoping for.
Speaking at the Loaded LAFTAs comedy awards in London - where they picked up the prize for Best Double Act - Bob told BANG Showbiz: "We wrote a big list of the other day, there was Pierce Brosnan that we wanted, and Liam Neeson, Rod Stewart.
"But you can only wish, we ask for all these people - then we end up getting Keith Chegwin or whoever."
Bob also said that while team captains Jack Dee and Ulrika Jonsson will return, there is likely to be some tweaks to the show's format.
He added: "I think we're going to have the same people on the panel, but I think we may get some different regular guests on. We may have a puppet instead of a person for one of them, then we may have a guest that's there every week like Johnny Vegas used to be."
Meanwhile, Vic was pleased to have won the Best Double Act award - because he got a free lunch.
He said: "There's nothing better than going out for a free lunch and a pat on the back, or a pat on the head - I don't mind. But we enjoy doing it, and you know we like doing what we do, we're not career comedians, we're natural."
Elsewhere, Jimmy Carr named Loaded Legend at the ceremony, while US comedian Rich Hall was named Stand-Up Legend.
Alan Carr was named Funniest Man, while 'Peep Show' star Isy Suttie was awarded Funniest Woman, and 'The Infidel' writer David Baddiel and star Omid Djalili picked up the Funniest Film award.
David said: "I'm slightly astonished by it as I never win anything. Except through Chelsea football club; but I personally never win anything. This is an online award so it's voted for by the people, so that's great."
Loaded LAFTAs full list of winners:
Loaded Legend - Jimmy Carr
Stand-up Legend - Rich Hall
Funniest Man - Alan Carr
Best Stand-Up - Michael Mcintyre
Funniest Woman - Isy Suttie
Funniest Double Act - Reeves & Mortimer
Best Panel Show - 'Ask Rhod Gilbert'
Funniest TV Show - 'Phoneshop '
Funniest Film - 'The Infidel'
Funniest Columnist - Gordon Smart (The Sun)
Funniest Twitterer - Cat Bin Lady (catbinlady)
Funniest DVD - 'The Mighty Boosh on Tour: Journey of the Childmen'
Funniest Podcast - 'Keith Lemon's Brilliant Podcast'
Funniest Sidekick - Comedy Dave, Radio 1
Funniest TV Personality - Rhod Gilbert