Laura Hamilton's DOI final nerves
Bang Showbiz
25 March 2011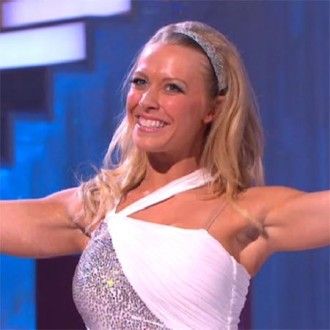 Laura Hamilton is terrified about the 'Dancing On Ice' final because of her initial fear that ITV1 audiences wouldn't take to her
Laura Hamilton is terrified about the 'Dancing On Ice' final.
The 28-year-old children's TV presenter - who will compete alongside Chloe Madeley and Sam Attwater in the hope of being crowned champion on Sunday night's (27.03.11) show - admitted her nerves come from her initial fear that ITV1 audiences wouldn't take to her because they had no idea who she was.
She explained: "I am scared! I just hope nothing bad happens before then during training. But no matter what happens, I wouldn't have changed these last few months for anything. Of course I was worried the fact not many people knew me could go against me.
"I always knew from week one when it was completely down to the public vote that we'd struggle to make it through. You don't know how the public have taken to you - that's why we didn't expect to get this far."
Laura - who quit her presenting gig on kids' TV channel Nickelodeon to take part in 'Dancing On Ice' - admitted she is keen to land a coveted role on 'X Factor' spin-off show 'The Xtra Factor' now past host Konnie Huq has been given the boot.
She added to the Daily Mirror newspaper: "Of course 'Xtra Factor' appeals. I've got a couple of work projects and opportunities that are potentially going to happen and a few decisions to make after that, but to present something like 'Xtra Factor' would be amazing."