Sam Attwater wins Dancing On Ice
Bang Showbiz
28 March 2011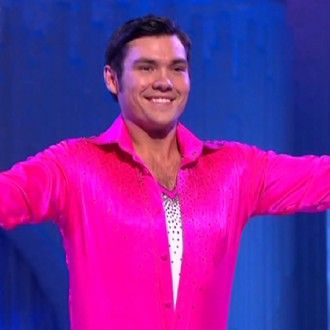 Sam Attwater has beaten off competition from Chloe Madeley and Laura Hamilton to be crowned 'Dancing On Ice' champion last night (27.03.11)
Sam Attwater has been crowned 'Dancing On Ice' champion.
The former 'EastEnders' actor - who skated through the pain after spraining his ribs in training last week - saw off early competition from Chloe Madeley last night (27.03.11) before beating Laura Hamilton in the final skate-off with his own version of Torvill and Dean's famous Bolero routine, and revealed he planned to celebrate by getting drunk.
He said: "My mind and body are destroyed but I had the time of my life. Now I'm going to celebrate by drinking myself into oblivion. I might even cry."
Sam also praised his professional skating partner Brianne Delcourt, with whom he enjoyed a brief romance earlier in the season, calling her a "friend for life".
He said: "I came into this competition to challenge myself and I've certainly done that.
"I wouldn't be here without Brianne. I've made a friend for life in her."
Although children's TV presenter Laura and her partner Colin Ratushniak scored the series' only set of straight 10s from the judges for their dance to the Pointer Sisters' 'I'm So Excited', the pair were gracious in defeat.
Laura said: "I've lived breathed and ate ice skating for the past six, seven months. I couldn't have asked for a better partner. It's been an amazing experience and I feel like the luckiest person alive. I'm going to continue skating 100 per cent."
Judge Jason Gardiner was so impressed with the pair's performance he removed his hat for the first time all season to show off the results of his recent hair transplant, saying "I take my hat off to you," while host Phillip Schofield quipped: "So that's what £20,000 looks like!"
Jason later took to twitter to reveal he plans to undergo the procedure again after hailing his doctor a "genius".
He posted: "I will have a second one in order to get back all the hair I lost. The medical technology these days is just remarkable!
"It is quite miraculous what they can do these days. Dr Ziering is a genius!"