Matt Smith doesn't understand Doctor Who plot twists
Bang Showbiz
26 August 2011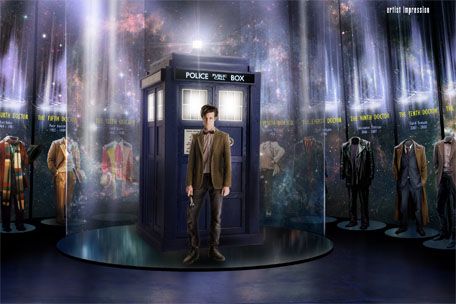 Matt Smith has admitted he never gets told the plot twists in 'Doctor Who'
Matt Smith never gets told the plot twists in 'Doctor Who'.
Despite the fact he plays the title character, the 28-year-old actor insists showrunner Steven Moffat refuses to tell him what he has got in store for the Time Lord and his companions Amy Pond (Karen Gillan), Rory Williams (Arthur Darvill) and part-time TARDIS dweller River Song (Alex Kingston).
He told BANG Showbiz: "There are lots more revelations to come as you will see in episode eight ('Let's Kill Hitler'), really great ones! It's quite strange for me because I do find out quite late on in the process.
"I asked for that to change but we'll see! I'm just kind of excited when I find out any revelations. I think it's a good pay off from where he (Steven) started it, so I'm pleased in story terms. I didn't go 'Oh really? That's really rubbish', I went 'Whoa! That's mental, brilliant.'
"I always think, 'But I've got to find out at some point.' But I'm impatient so why not let it be earlier?"
Although he gets frustrated with the secrets on set, Matt admits his favourite moment of the current series was when The Doctor and the viewers found out River was Amy's daughter Melody Pond in episode seven 'A Good Man Goes To War'.
The actor added: "I think there's a couple of moments in episode seven which are brilliant. I think that last moment with Alex when she says, 'It's me, I'm Melody.' I just love it, I think that whole episode is just a homage to 'Star Wars' really."
The autumn run of 'Doctor Who' starts on BBC One on Saturday (27.08.11) with the episode 'Let's Kill Hitler'.