Karl Pilkington angers Van Halen with Jump cover
Bang Showbiz
12 September 2011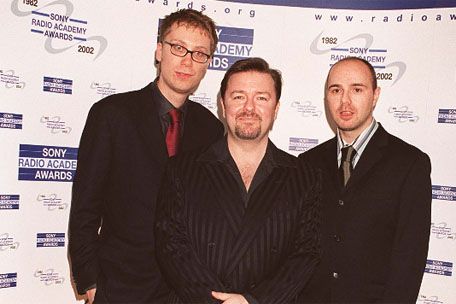 Rockers Van Halen are trying to ban Karl Pilkington's version of 'Jump' from appearing in 'An Idiot Abroad: The Bucket List' because his performance of their hit was so ''terrible''
Van Halen are trying to ban Karl Pilkington's version of 'Jump' from appearing in 'An Idiot Abroad: The Bucket List'.
The Sky1 TV show - devised by Ricky Gervais and Stephen Merchant - sees Karl being sent around the world to undertake a list of challenges you should do before you die, with one of them being to perform in an American 'Glee'-style chorus club.
He sang the rockers' hit 'Jump' but his rendition was so bad, the band are trying to stop it from being aired.
Ricky said: "Van Halen are trying to put a stop to it, because it is that bad. But Sky have got a blanket agreement so we can put it out in England. But we can't put it out in America or on the DVD.
"But they can't stop us. Even if I have to put it out on the web it's being used."
Ricky admits the performance is awful as Karl has to learn the song as well as a routine and gets it all wrong.
He added: "He's doing 'Jump' and he's so terrible. It's the most mortifying thing I have ever seen. I was cringing. I was watching it through my fingers. You know when you wind a mate up and it's bad and then you wish you hadn't done it? That's what we felt."