Shooting Stars axed
Bang Showbiz
16 November 2011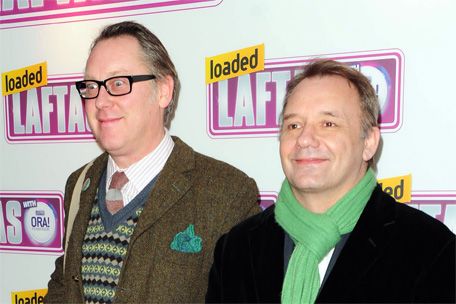 BBC Two quiz show 'Shooting Stars' - presented by Bob Mortimer and Vic Reeves - has been axed for the second time
'Shooting Stars' has been axed.
BBC Two has pulled the plug on the quiz show - presented by Bob Mortimer and Vic Reeves - for the second time after it first aired from 1995-1997, followed by a second run from 2008.
A BBC spokeswoman said: "In future there will be less space on BBC Two for comedy and entertainment panel shows so sadly 'Shooting Stars' won't be returning.
"We'd like to thank Vic and Bob for everything they've brought to the channel over the years."
'Shooting Stars' boss Lisa Clark added: "There isn't enough money. It's a real shame because Vic and Bob are unique."
Bob wrote on his twitter page: "BBC have just cancelled shooting stars. (sic)"
Fans reacted angrily to the news on twitter with The Times critic Caitlin Moran writing: "A genuine outrage. I hope some other channel snaps up Shooting Stars immediately: it's one of the best comedy shows of the last 20 years."
Former 'Fast Show' star Simon Day added: "Shooting Stars: funniest show on telly. Great idea to drop it, from people who care."
Earlier this year Bob admitted he was thrilled with how the show was being received, claiming the public needed a show that was a "bit stupid".
He explained:"It's had the best critical acclaim in years so maybe the time's come round again. There's a feeling in the air that maybe things have got a bit dreary again. There's a need for something a bit stupid - a bit Milligan, a bit Cooper."