Slipknot to headline Download 2013
Bang Showbiz
27 September 2012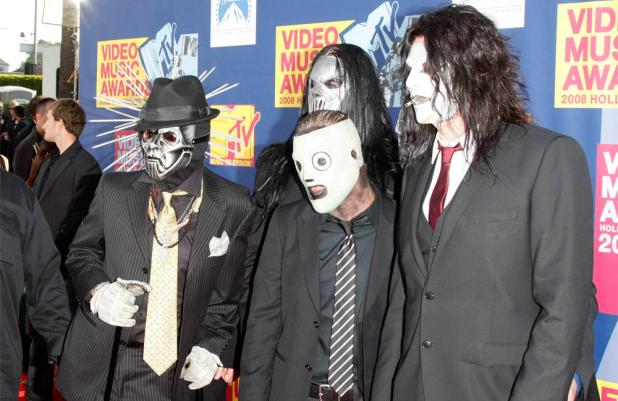 Slipknot will headline Download 2013 on Friday June 14, 2013, ahead of Iron Maiden and Rammstein's performances on Saturday June 15 and Sunday June 16 respectively
Slipknot will headline Download 2013.
The 'Wait and Bleed' hitmakers will take to the stage at the rock event held at Donington Park in Derbyshire, England, on Friday June 14, 2013.
They join Iron Maiden and Rammstein, who will headline the festival on Saturday June 15 and Sunday June 16 respectively.
Slipknot's percussionist Shawn Crahan, who is also known as Clown, said: "We are extremely honoured to have been asked once again to headline the Download Festival. This most definitely will be an experience not to be missed. Every time we've played Download we have created memories.
"It's always good to have the church of the Knot, the altar of the Knot, giving the sermon of the Knot to the congregation of the Knot, the culture of the Knot. This summer cannot come soon enough. Partake in the imagination or don't b**ch."
The US heavy metal outfit will take to the stage with a heavy heart as their last performance at Download came in 2009 and featured their bassist Paul Gray, who died in May 2010.
Slipknot are expected to play a number of their hits at Download including 'Surfacing', '(sic)', 'Before I Forget', 'People = S**t', 'Psychosocial' and 'Duality' as well as crowd favourite 'Spit It Out
Andy Copping, of promoters Live Nation, said: "Slipknot's last appearance at Download has gone down in the festival's history as one of the best ever headline sets. God knows what they'll have in store for 2013 but I'm looking forward to seeing how they'll top the last one."
The festival will run from June 14 to 16 next year. Tickets go on sale at 9am tomorrow (28.09.12) from www.downloadfestival.co.uk