Mumford and Sons feel like a 'big-boy band' after Grammy win
Bang Showbiz
12 February 2013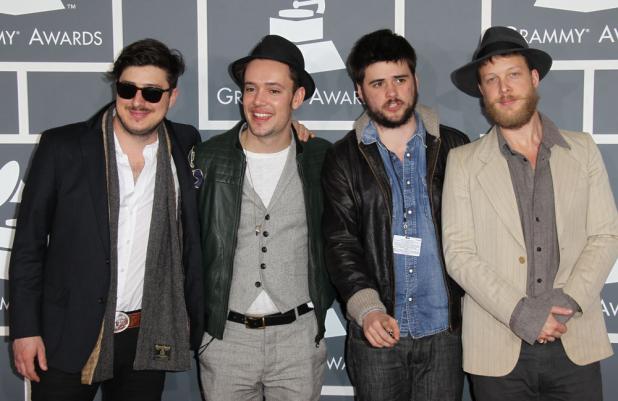 British band Mumford & Sons feel like a "big-boy band" after winning Album Of The Year for their second record 'Babel' at the Grammy Awards on Sunday (10.02.13)
Mumford & Sons feel like a "big-boy band" after winning Album Of The Year at the Grammys.
The British quartet were left stunned when their second album 'Babel' scooped the prestigious prize at the ceremony in Los Angeles on Sunday (10.02.13) - beating the likes of the Black Keys, Fun., Frank Ocean and Jack White - and the 'Little Lion Man' musicians are grateful for the acceptance in America.
Accordion Ben Lovett told the Daily Star newspaper: "America has been so good to us. We've toured hard and we're excited about taking on the responsibility of being a big-boy band and stepping into the shoes of the big guys. We're trying out best."
Lead singer Marcus Mumford is also pleased the band's non-stop touring has paid off and credits their success to people "connecting" with their music.
He added: "Live shows really connect with people in a way you can't on record. We've met some great people in the indie, rock and country worlds here, so we just feel like kindred spirits."
Despite only winning one award out of six nominations, which included Best Rock Performance and Best Rock Song for 'I Will Wait', the band are happy with their gong and praised their competitors and big winners at the event, the Black Keys, who took home four awards from the event.
Marcus continued: "One after another it was like: 'And the winner is Black Keys, the Black Keys, the Black Keys. And so I think we just sort of resigned ourselves, like last year it was Adele's year, it was the Black Keys' year and good on 'em, they're f**king awesome."