Matthew Gravelle 'shocked' at Broadchurch killer revelation
Bang Showbiz
24 April 2013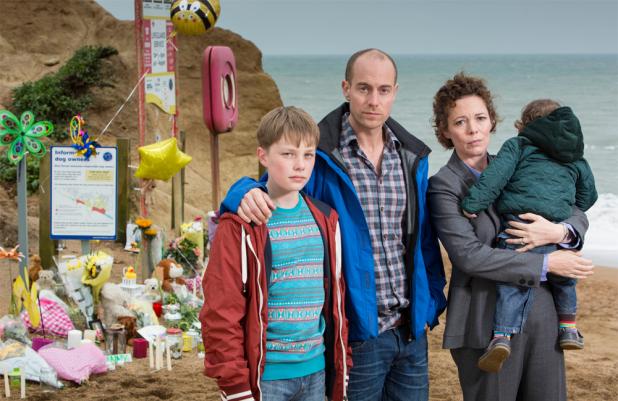 'Broadchurch' star Matthew Gravelle insists he genuinely didn't think his character Joe Miller was Danny Latimer's killer, and admits he had a punt on Susan Wright (Pauline Quirke) or Reverend Paul Coates (Arthur Darvill) doing the deed
'Broadchurch' star Matthew Gravelle was shocked to find out his character was Danny Latimer's killer.
The 36-year-old actor - who plays Joe Miller in the ITV detective drama, which concluded on Monday night (22.04.13) when he confessed to the murder of 11-year-old Danny - had his money on either mysterious recluse Susan Wright (Pauline Quirke) or Reverend Paul Coates (Arthur Darvill) being the culprit.
Writer Chris Chibnall phoned Matthew to tell him his alter-ego - the husband of DS Ellie Miller (Olivia Colman) - was the schoolboy's killer, but up until then the former 'Torchwood' star admitted not knowing who the murderer was made it easier to play the part.
He said: "During filming I didn't think it was me until Chris phoned to tell me.
"Watching it live with the nation, it seems more obvious that I should have suspected it was me all along.
"I never had a solid theory about who the killer was but I did take a punt that it might be Pauline Quirke's character or the vicar.
"Not knowing really helped because everyone in the cast wanted it to be them, so there was an element of ambiguity to the way things played out -- an edge.
"There was an uncertainty to it which seeped into performances and could be read as guilt. And not knowing who the killer was made it fun to point the finger."
Despite carrying the huge burden and finding it tough to keep the news a secret, Matthew insists playing the complex character "wasn't so hard" because Chris had written the part "so well".
He added to The Sun newspaper: "I had thought of Joe as a good guy, so when I found out about the immense duplicity I had to unpick what I knew to make him plausible as a killer.
"It was an interesting challenge but Chris had written the character so well that it wasn't so hard.
"What is great about Joe is that even at the end, he isn't sinister.
"He genuinely doesn't know how or why this happened."
The killer's identity wasn't the viewers' only shock on Monday as the closing credits revealed a second series of 'Broadchurch' has been commissioned. The show is likely to continue next year.