Mumford and Sons close Glastonbury Festival 2013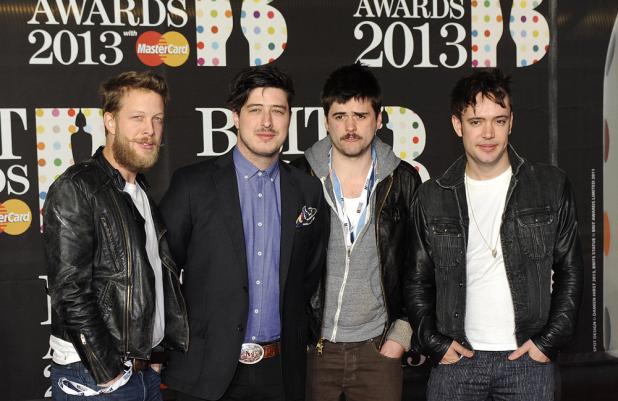 Folk-rockers Mumford and Sons closed Glastonbury Festival last night (30.06.13) as they performed for the first time since bassist Ted Dwayne had surgery on a blood clot on his brain
Mumford and Sons closed Glastonbury last night (30.06.13) as Ted Dwayne made his return from brain surgery.
The bassist had surgery on a blood clot on his brain two weeks ago but joined his band mates for their biggest show to date as they entertained a huge crowd on the festival's Pyramid Stage.
Frontman Marcus Mumford told the crowd Ted's issue had developed due to "headbanging" too much.
He said: "He got the blood clot from headbanging on stage. He's amazing now - all the doctors said he could play whenever he wants.
"But I really wanna milk it tonight and wheel him out on a bed with a drip."
The folk rockers kicked off their Glastonbury debut with 'Lovers' Eyes' before bursting through a fantastic show - including hits 'I Will Wait' and 'Little Lion Man' - before bringing the main set to a close with 'Dust Bowl Dance'.
After performances of 'Babel' and 'The Cave', Mumford and Sons were joined on stage by The Vaccines, Vampire Weekend and The Staves as they treated fans to an epic rendition of The Beatles' 'A Little Help From My Friends'.
Marcus also showed his appreciation to festival organiser Michael Eavis for booking them for the event.
He added: "I would like to give a massive thank you to Michael Eavis and his family for having us here and letting us be complete idiots in his field for a couple of days."