Mumford and Sons go on hiatus
Bang Showbiz
23 September 2013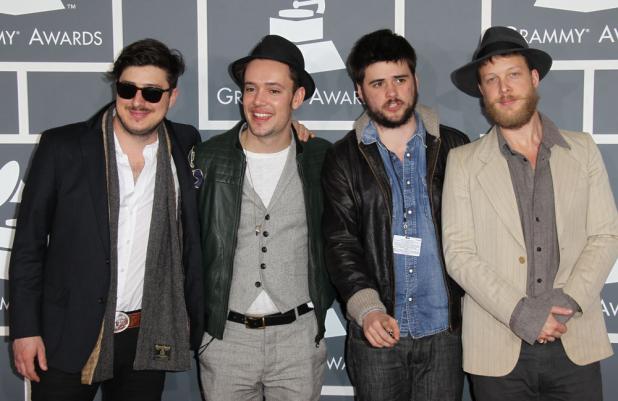 Mumford & Sons are taking some "considerable" time off from music after completing their 'Babel' world tour
Mumford & Sons are going on hiatus.
The indie-folk band have decided to take some much-needed time off following a hectic year touring in support of their latest album 'Babel' and will now take a "considerable" amount of time off following their final gig at Bonner Springs in Kansas on Friday (20.09.13).
Keyboardist Ben Lovett told Rolling Stone magazine: "There won't be any Mumford & Sons activities for the foreseeable future following Friday's show."
Probed about the length of their break, Ben said: "We have no idea. We just know we're going to take a considerable amount of time off and just go back to hanging out and having no commitments or pressure or anything like that.
"It feels like the last week of school right now, before school holiday when you're in high school. The atmosphere on the road is one of ... I think everyone's excited about being free of schedules."
The British band have barely had any free time since bursting onto the music scene in 2009 with debut album 'Sigh No More', so Ben and bandmates Marcus Mumford, Winston Marshall and Ted Dwane
are keen to spend some quality time with their friends and families.
Ben added: "We're just going to rest up. I don't think we've had actually much time in the process to be with other people and living a life outside of the band. I think that's what's in place at the moment, to do very little - especially when it comes to Mumford & Sons."