Where to see bonfire night fireworks displays near Edinburgh 2019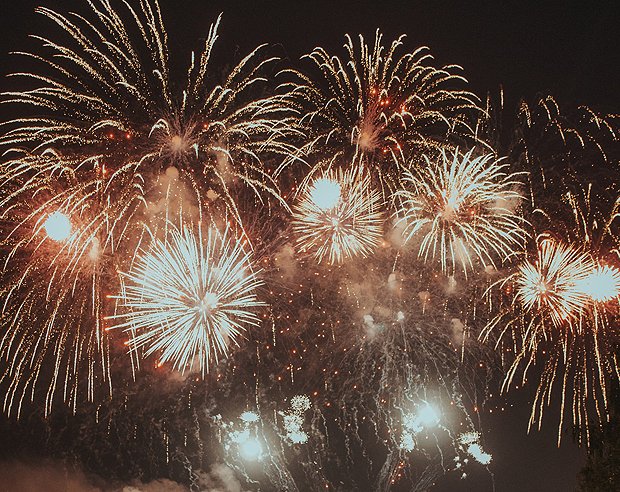 What time do the fireworks start in Edinburgh, Fife, East and West Lothian
Whether you live in Edinburgh, or close by, this year there are more events than ever to help you celebrate Guy Fawkes' failed attempt to blow up the House of Lords. Unfortunately the annual Meadowbank fireworks will not be going forward again this year, as the Sports Centre is still closed for redevelopment. Not to worry though – in Edinburgh you're never far from bonfire night pyromania.
Scottish Love in Action returns with two displays lined up at George Watson's Rugby Stadium on Sun 3 Nov: an earlier showing which will be running from 4.30–5.15pm, and another at 7–7.45pm. Both Fireworks Extravaganzas will include pipe bands, performances by Delighters Fire Circus Theatre and the MGA Academy of Performing Arts, and be compèred by Malcolm Reid and Dougie Robertson.
For something a bit different but no less pyrotechnic, you might also check out Samhuinn Fire Festival. Hosted by the Beltane Fire Society, the event celebrates the Celtic New Year and the epic struggle between Summer and Winter, with a cast of otherworldly creatures showcasing a range of stunning acrobatics, costuming, drumming and more. Ascend Calton Hill on Thu 31 Oct at 7pm, and witness the pagan revelry for yourself.
Just outside the city in nearby Musselburgh, their annual Fireworks Display will be taking place on Tue 5 Nov over at Fisherrow Links. Further east will see the return of the Haddington Fireworks Association Display on Sat 2 Nov, kicking things off with a torchlight procession at 6.30pm. Even further out into East Lothian, the Aberlady Fireworks & Bonfire Night will have the evening sky ablaze the following night on Sun 3 Nov. Tranent will be hosting its Tranent Fa'side Family Fireworks on Fri 1 Nov, while the Yacht Club plays host to the North Berwick Fireworks Display, which will be taking place at 7.30pm on the harbour, Tue 5 Nov.
For something a little grander, head west of the city for the stately Hopetoun Fireworks Display in South Queensferry. Taking place on the grounds of the impressive estate on Sat 2 Nov, this will be the show's tenth anniversary, and thus will also feature birthday cake, games and more. Yet another stately home – Arniston House in the Midlothians – will also be hosting its Family Fireworks Party on Tue 5 Nov, with a Guy Fawkes fancy dress competition, popcorn, hot chocolate stalls and a hog roast supper on offer, in addition to a bonfire and fireworks display.
Meanwhile in West Lothian, the Linlithgow Rugby Club's Fireworks Display will be getting lit on Sat 2 Nov, with gates opening at 6.30pm and the display set to light up the night at 7.30pm. Deer Park Country Club will also be opening its grounds to the public for its Fireworks Night on Tue 5 Nov, with the chance to head over early for a hot fork buffet, or to arrive at 7.30pm for just the display itself.
Across the Forth Road Bridge, the Burntisland Bonfire & Fireworks Display this year is on Bonfire Night proper, with the event kicking off at 6pm and the bonfire lit at 7pm. There's also the welcome return of the free display at King George V Park in Crossford on Fri 1 Nov, organised by the Crossford Children's Gala.
Further north, the Cardenden Community Bonfire & Fireworks Display will be going ahead a week later on Fri 8 Nov, while over at Beveridge Park, the Kirkcaldy Fireworks Display will be holding its free inaugural celebration on Tue 5 Nov.
For more info on Guy Fawkes fireworks displays around the UK, see our Bonfire Night Guide.