Where to see bonfire night fireworks displays near Birmingham 2019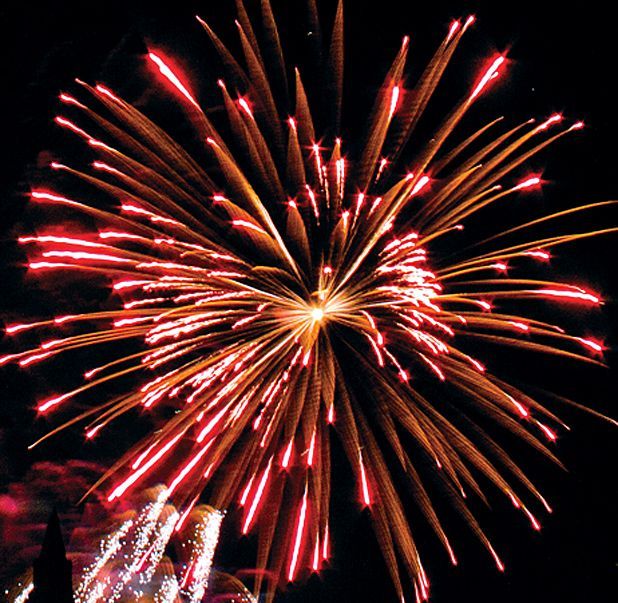 What time are Guy Fawkes fireworks in Birmingham, Edgbaston, Solihull, Tamworth, and Bewdley
As the nights get shorter (and colder), Bonfire Night gets closer and Birmingham is ready to celebrate. Looking for something family-friendly and cosy? Or a huge event with loud bangs and music? Laser shows and superheroes? The area has you covered!
Birmingham
Edgbaston Stadium promises good views for its Fireworks Spectacular (Sat 2 Nov), with live entertainment, an amazing LED light show, a fairground and hot food to warm you up. The little ones can even meet their heroes and turn into Spiderman at the face painting station. Rowheath Pavilion Bonfire Night and Fireworks Displays awaits everyone for a music-filled night featuring songs from The Lion King and by John Williams to accompany their two fireworks displays (Fri 1 Nov). Try some delicious street food while you are at it!
Elsewhere in Birmingham, the British Oak Fireworks Extravaganza and the Vale Fireworks are both happening on Thu 7 Nov. The former offers a truly family-friendly night, while the latter has fun fair rides and live entertainment. On Sat 2 Nov, visit the Scouts Annual Fireworks Extravaganza for a more traditional bonfire celebration, or a week later, make your way to the Barnt Green Bonfire & Fireworks (Sat 9 Nov) for an unforgettable night with entertainment, food and drink, a bar, giant kids inflatables, fun games and two fireworks displays. Rather listen to some live music? Moseley Fireworks and Bonfire offers food stalls, a fully licensed bar and live band.
Solihull
In the south of the city is Solihull Round Table Fireworks Display (Sat 9 Nov). This year's event kicks off at 4.30 with the bonfire lighting up at 6.30pm followed by the fireworks display at 7.30pm. The Edwardian FC Bonfire & Fireworks Display (Sat 2 Nov) is on from 7pm with a bonfire, fairground attractions, a sausage and burger bar, and of course, a spectacular fireworks starting at 7.30pm.
Dudley
The Himley Bonfire & Fireworks does not only remember Guy Fawke's failed attempt but also celebrates the 50th anniversary of the moon landing. On Sat 2 Nov head to Himley Hall and Park and enjoy a night of fun with rides, entertainers, a night market all with the biggest hits from the 50s. Or prefer to go back in time even further? Head to the Blinding Bonfire at the Crooked House in Dudley (Mon 4 Nov) which has a 1920s-theme complete with prohibition bar, street food, DJs and live music from Gatsby Gun Runners.
Tamworth
Outside the city in nearby Tamworth, there's a Best of British-theme for the annual Drayton Manor Fireworks (Fri 1 and Sat 2 Nov). A huge firework display is accompanied by music as well as a cool laser display. Tamworth Castle is also hosting its annual celebrations (Sat 2 Nov, fireworks start at 7pm), with fire performers, a fun fair, a sparkle zone and food stalls.
Stourbridge, Oldbury and Halesowen
In Stourbidge visit the The Crown Firework Night & Live Music (Sun 3 Nov) for a lovely celebration with fireworks, live music, outside bar and tasty street food. In Oldbury, the Warley Baptist Church's Annual Bonfire & Fireworks night returns (Mon 4 Nov) with sparklers, hot food and drinks. One firework display is not enough? Head to Halesowen, where the Halesowen Cricket Club Bonfire & Fireworks (Fri 1 Nov) offer two displays as well as fun fairgrounds rides.
Bewdley and Sutton Coldfield
Driving west from Birmingham, in Bewdley, the West Midland Safari Park Firework Festival Weekend promises a spectacular two day celebration (Sat 9 and Sun 10 Nov) with the gates opening at 1pm. The full day experience includes animal shows and attractions at the park with the bonfire lit at 5.45pm and the fireworks starting at 6.30pm. Driving east from Birmingham, the Little Sutton Primary School Firework Display offers a more cosy charity event with food and drinks (Tue 5 Nov). The gates open at 5:30pm and the firework display begins at 7pm.
For more info on Guy Fawkes fireworks displays around the UK, see our Bonfire Night Guide.