Where to see bonfire night fireworks displays near Glasgow 2019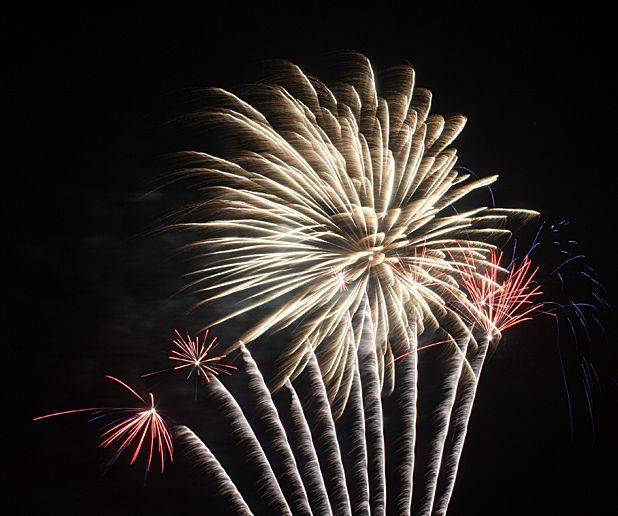 What time are fireworks in Glasgow city centre, Clydebank, Paisley, Motherwell and Airdrie
Glaswegians – get your gunpowder fix this year at one of the many events lined up to celebrate Guy Fawkes night. In the city, head to Glasgow Green for the biggest and best firework display in the city on Tue 5 Nov. It's free and family-friendly, so it is perfect to bring all generations to. Last entry to the funfair is at 9pm, with the fireworks set to light up the night at 7.30pm.
Or head to Uddingston Cricket & Sports Club (Sat 2 Nov), for a family-friendly display that starts at 6.30pm, while over at Hamilton Rugby Club (Sat 2 Nov), they promise hot food and drinks to keep you warm as well as their biggest and best display yet. Lights will also be going up at Drumchapel Park for the Drumchapel and West Winterfest Fireworks (Tue 5 Nov) with live music, funfair rides and stalls, and a fireworks display at 7pm.
In Cydebank there's the Dalmuir Park Fireworks Display on Tue 5 Nov (display starts at 7.30pm). If you're near Paisley head to the Paisley Fireworks Display (Sat 2 Nov) in the town centre. This year the fireworks will be set to a 90s soundtrack, featuring hits from Britney, Celine and more, as well as music and chat from Pulse FM's Gus. In addition, there is the Levengrove Park Fireworks Display in Dumbarton (Mon 4 Nov), which also boasts a funfair and food stalls.
To the east of the city in Coatbridge the Dunbeth Park Firework Display (Mon 4 Nov) is free. Lots of hot food and drink will be available, and the bonfire is lit at 7pm, whilst the display starts at 7.30pm and lasts 30 minutes. New Douglas Park will also be hosting their own pyrotechnic spectacular at their Firework Fun Night (Tue 5 Nov), alongside food and other entertainment.
In nearby Motherwell the Strathclyde Park Fireworks (Tue 5 Nov) is a joint venture between North and South Lanarkshire Councils and is also free – bonfire is lit at 7.15pm, fireworks start at 8pm. There's even a funfair provided by the park's neighbours M&Ds, which will run from 4.30–9.30pm. In nearby Airdrie (Mon 4 Nov) there is also a display held at Airdrie Leisure Centre in Rawyards Park, with the bonfire lit at 7pm and the display beginning at 7.30pm.
Giffnock are holding their own celebrations at the GHA Fireworks Display (Tue 5 Nov) where music and food are usually promised, while in Strathaven, they are holding a fireworks display (Sat 2 Nov), with all profits donated back into the community.
In Cumbernauld head to the display at St Maurice's High School (Mon 4 Nov), for what promises to be a family-friendly celebration.
For more info on Guy Fawkes fireworks displays around the UK, see our Bonfire Night Guide.