EastEnders cast shoot Neighbours 30th anniversary tribute
Bang Showbiz
17 March 2015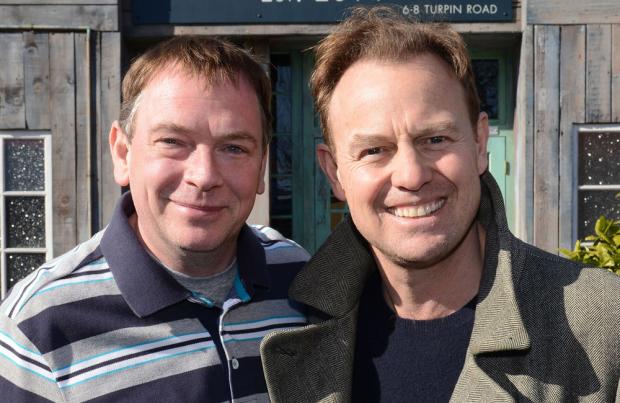 'EastEnders' has celebrated the 30th anniversary of 'Neighbours' with a tribute video in which the former Aussie soap star Jason Donovan is kidnapped
'EastEnders' has celebrated the 30th anniversary of 'Neighbours' with a tribute video.
The three-minute clip features a guest appearance from Jason Donovan - who played Scott Robinson in the Australian soap from 1986 to 1989 - arriving in Walford but receiving a typically cold East End welcome.
After being shunned by Ian Beale (Adam Woodyatt), the star is kidnapped by 'EastEnders' character Aunt Babe (Annette Badland), who ties him up before making one of her famous trifles, which she tells him she has made "especially for you".
Long-standing 'EastEnders' actor Adam said: "We couldn't let the 'Neighbours' 30th anniversary pass without celebrating, especially after the great tribute they did for us last month. Everyone at 'EastEnders' absolutely loved it. So from all of us in Albert Square to everyone in Ramsay Street, have a very happy birthday."
Among the other strange scenes in the 'Ramsay Square' parody include various residents being seen covering up crimes, smoking and arguing, all while the jolly 'Neighbours' theme tune is played.
Last month, veteran stars of the Aussie soap Dr Karl Kennedy (Alan Fletcher) and Susan Kennedy (Jackie Woodburne) were the protagonists in a short clip honouring the BBC soap's 30th anniversary, in which various characters re-enacted key scenes from the show.