Where and when: latest UK tour and ticket announcements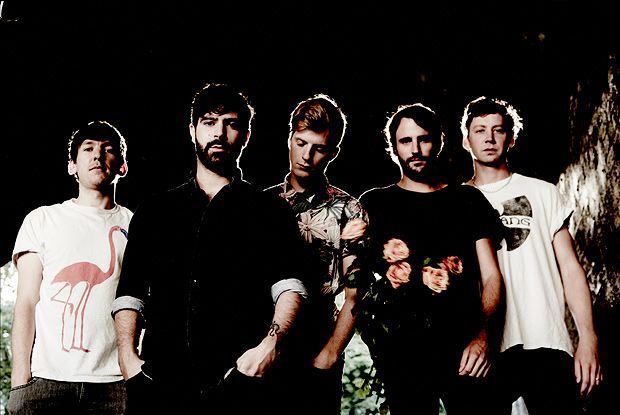 Foals and Sleeping with Sirens announce UK tour dates, plus The Cribs and Chvrches and more
After the intense run of summer festivals, what's the best way to start out the new season? More music, of course. We round up all the newly announced concerts and tours this week, heading to the UK very, very soon.
Hot of the feeds is news of the Foals' tour set for 5–16 Nov, while Sleeping with Sirens fly in from Florida to visit British fans next year, from 29 Feb–6 Mar. Also just announced is Escape the Fate, who will be slamming guitars in January.
Representing homegrown talent, The Cribs also have a full UK tour scheduled for October, the first since the release of their sixth album For All My Sisters in March. Chvrches are also getting ready to play some of the big stages, kicking off their tour with a few European dates and heading to the UK in November, where they have their biggest London headline gig to date.
Other newly announced upcoming UK tours include Baby Chaos, Lifehouse and We Are The Ocean. Check out the venues, dates and times for each of these gigs below:
Foals
Rock City (Nottingham) – 5 Nov, 6.30pm
Liverpool Olympia – 6 Nov, 6.30pm
Norwich Nick Rayns – 7 Nov, 7.30pm
Cardiff University Students Union – 8 Nov, 7pm
Aberdeen Music Hall – 10 Nov, 7pm
O2 Academy Newcastle – 11 Nov, 7pm
O2 Guildhall Southampton – 13 Nov, 7pm
Anson Rooms (Bristol) – 15 Nov, 7pm
Cambridge Corn Exchange 16 Nov, 7pm
Tickets on sale from 9am, Fri 21 Aug
Sleeping with Sirens
O2 Academy (Bristol) – 29 Feb, 6pm
Rock City (Nottingham) – 1 Mar, 6pm
O2 Academy Glasgow – 2 Mar, 6pm
O2 Apollo Manchester – 4 Mar, 6pm
O2 Academy Birmingham – 5 Mar, 6pm
Roundhouse (London) – 6 Mar, 6pm
Tickets on sale from 10am, Fri 21 Aug
Chvrches
Brighton Dome – 16 Nov, 7pm
O2 Academy Bristol – 17 Nov, 7pm
Albert Hall (Manchester) – 19 Nov, 7pm
Albert Hall (Manchester) – 20 Nov, 7pm
Tickets on sale now
Escape the Fate
Manchester Club Academy – 28 Jan, 7.30pm
Cathouse (Glasgow) – 29 Jan, 7pm
Rescue Rooms (Nottingham) – 30 Jan, 6.30pm
Electric Ballroom (London) – 16 Feb, 7pm
Tickets on sale from 9am, Fri 21 Aug
The Cribs
O2 Academy Newcastle – 19 Oct, 7pm
Barrowland (Glasgow) – 20 Oct, 7pm
Albert Hall (Manchester) – 21 Oct, 7pm
O2 Academy Sheffield – 24 Oct, 7pm
O2 Academy Bristol – 25 Oct, 7pm
Rock City (Nottingham) – 26 Oct, 7pm
Roundhouse (London) – 28 Oct, 7pm
O2 Academy Oxford – 29 Oct, 7pm
Tickets on sale now
Jerry Lee Lewis
Glasgow Clyde Auditorium – 10 Sep, 8pm
Tickets on sale now
Lifehouse
Olympia (Dublin) – 28 Sep
Glasgow ABC – 29 Sep
Shepherds Bush Empire (London)– 1 Oct
O2 Academy Manchester – 2 Oct
Shepherds Bush Empire (London) – 3 Oct
Tickets on sale now
We Are The Ocean
Asylum (Birmingham) – 9 Nov
Globe (Cardiff) – 10 Nov
Fleece (Bristol) – 11 Nov
Waterfront (Norwich) – 12 Nov
Mine (Leeds) – 13 Nov
King Tuts (Glasgow) – 15 Nov
O2 Academy Newcastle – 16 Nov
Sound Control (Manchester) – 17 Nov
Rescue Rooms (Nottingham) – 18 Nov
Islington Academy (London) – 20 Nov
Tickets on sale now
Baby Chaos
Rock City (Nottingham) – 17 Sep
Ritz Manchester – 18 Sep
O2 Academy Newcastle – 19 Sep
Glasgow ABC – 20 Sep
O2 Academy Leeds – 22 Sep
Wulfrun Hall (Wolverhampton) – 23 Sep
O2 Academy Bristol – 24 Sep
Shepherds Bush Empire (London) – 25 Sep
Tickets on sale now