Jeff Lynne's ELO announces UK arena dates (4TH O2 DATE ADDED)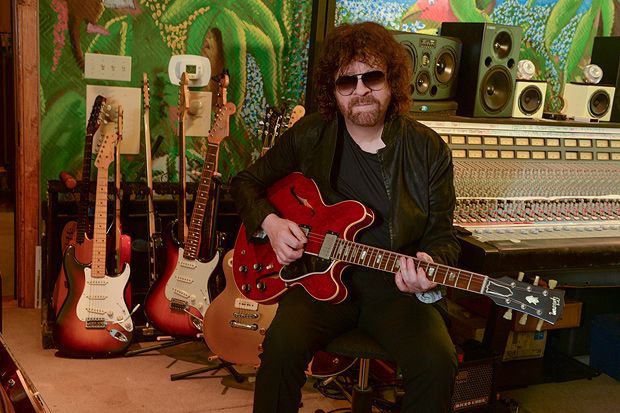 Following a revival of fortunes and a new album, 70s megastars go on the road
UPDATED: Extra O2 date added see below
London dates have been announced for Jeff Lynne's ELO, the latest incarnation of The Electric Light Orchestra. ELO are still, for a little while to come, one of the biggest bands of the 70s to have been not wholeheartedly embraced by a generation of hipsters who weren't even born until long after the decade in question.
But what does a band have to do to get some respect? Daft Punk's 'Face to Face' features a sample from ELO's 'Evil Woman'; the Flaming Lips cited the band as an influence, and with 'Long Black Road' providing suitably gritty exit music for David O Russell's fantastic American Hustle, surely the band is only a fistful of tweets away from a general re-anointment with the sacred unguents of cool. The rapturous reception given to their 2014 Hyde Park gig suggests that the process is already underway, and in a world where one of their biggest fans, Alan Partridge, can become the hero of an action movie, clearly anything can happen.
Frontman Jeff Lynne is, of course, the possessor of the world's most iconic curly-mop/full beard/sunglasses combo, his closest rival in that respect, Blue Oyster Cult frontman Eric Bloom, having gone to the razor years ago. The band is called Jeff Lynne's ELO to distinguish it from rival outfit The Orchestra, which has more former members of the band, but no founder members. Then again, ELO has been fragmenting almost since it was formed, with original co-founder Roy Wood quitting before the band had finished its second album.
The band's new album Alone in the Universe comes out this week, and is the first new album of ELO material since 2001's Zoom, confirming ELO as one of the great pop long-runners. Not bad for a band that started out by modelling its entire style on the string charts for 'I Am The Walrus'.
Jeff Lynne's ELO 2016 UK tour dates:
Tue 5 Apr – Echo Arena, Liverpool
Thu 7 Apr – Capital FM Arena, Nottingham
Sat 9 Apr – First Direct Arena, Leeds
Sun 10 Apr – Arena, Manchester
Tue 12 Apr – SSE Hydro, Glasgow
Thu 14 Apr – Metro Radio Arena, Newcastle
Sat 16 Apr – Genting Arena, Birmingham
Sun 17 Apr – Genting Arena, Birmingham
Wed 20 Apr – O2 Arena, London
Fri 22 Apr – O2 Arena, London
Sat 23 Apr – O2 Arena, London (EXTRA DATE, BUY TICKETS)
Tue 26 Apr – O2 Arena, London (EXTRA DATE, BUY TICKETS)
Alone in the Universe is released on Fri 13 Nov. Jeff Lynne's ELO tours the UK in April 2016.