Ben Folds to tour UK with yMusic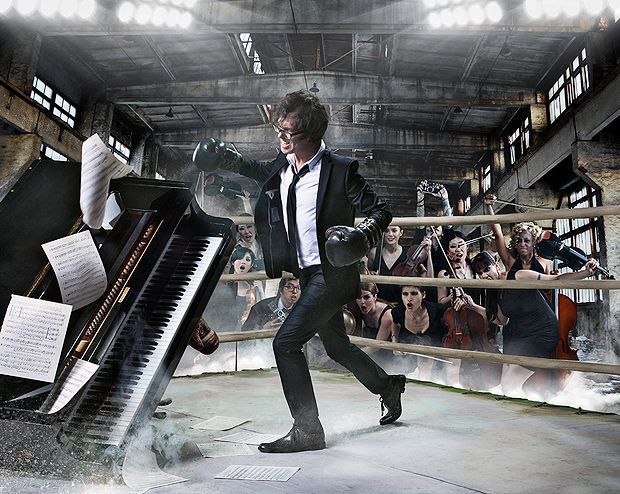 Alternative piano man and serial collaborator set to appear with NYC chamber ensemble
Ben Folds, the Winston-Salem multi-instrumentalist and singer / songwriter, is going on the road with yMusic, the New York chamber ensemble that flourishes in the increasingly fertile territory between pop and classical music. Folds came to fame in the late 90s with the Ben Folds Five, a band that played what he called 'punk rock for sissies', but when the Five took a career hiatus around 2000, he became one of music's most enterprising and imaginative collaborators.
Among other things, he produced Amanda Palmer's first solo album Who Killed Amanda Palmer; contributed a song to the woefully underrated 2005 Red Riding Hood comedy Hoodwinked!; co-wrote an album of songs with Nick Hornby (Lonely Avenue), the Hornby / Folds duo going on to record a videosong with adorkable YouTube stars Pomplamoose; and had a cameo appearance in a 2014 episode of one of our favourite sitcoms, Community, as well as writing and performing the episode's closing song, the touching 'Ass Crack Bandit'.
Perhaps most memorably, he was co-collaborator and musical director on William Shatner's mind-bending second solo album Has Been; say it quietly, but the album's cover of Pulp's 'Common People', featuring Shatner and Joe Jackson on vocals, is even better - more affecting, more turbulent, more drenched in failure and disgust - than the mighty original. To cement his industry presence, Folds is also the owner/operator of Nashville's Grand Victor Sound Studio, the former RCA Victor Nashville Studio, originally opened in 1965 and one of the largest recording spaces in the city.
Folds's latest album So There, which came out in September, is a self-styled 'chamber rock' collaboration with NYC's yMusic, a six-piece chamber group that's premiered music by Nico Muhly and Sufjan Stevens and collaborated with the likes of Swedish singer/songwriter José Gonzalez. It features, among other things, a 'Concerto for Piano and Orchestra' performed with the Nashville Symphony.
Ben Folds tour dates 2016:
Sun 12 Jun – Millennium Centre, Cardiff
Mon 13 Jun – Symphony Hall, Birmingham
Tue 14 Jun – Usher Hall, Edinburgh
Wed 15 Jun – Liverpool Philharmonic
Sat 18 Jun – Sage Gateshead
Mon 20 Jun – London Palladium
Tue 21 Jun – London Palldium
Wed 22 Jun – Brighton Dome
Thu 23 Jun – Cambridge Corn Exchange
Ben Folds and yMusic are on UK tour in June 2016. Tickets go on sale from 10am on Fri 4 Dec.