Kylie Minogue welcomes on-screen daughter to Neighbours
Bang Showbiz
22 February 2016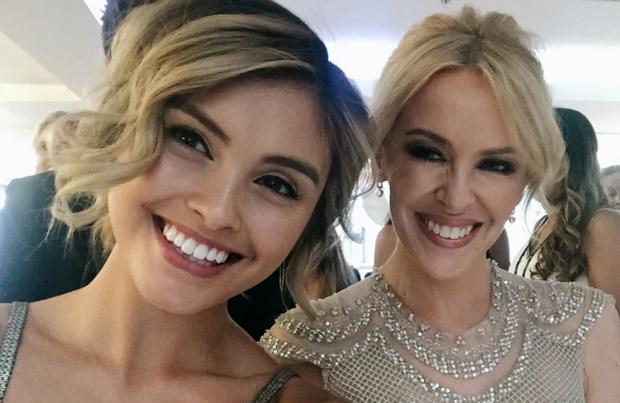 Kylie Minogue congratulates Sarah Ellen on landing the role of her on-screen daughter Madison Robinson in 'Neighbours'
Kylie Minogue's on-screen daughter has joined 'Neighbours'.
The 47-year-old singer - who worked on the long-running soap from 1986 until 1988 - has praised Sarah Ellen, 18, on securing the role of her former alter-ego Charlene Robinson and her on-screen husband Scott Robinson's (Jason Donovan) daughter Madison Robinson and has wished her luck ahead of her debut on April 22.
She said: "Congratulations on your first acting job Sarah and welcome to the neighbourhood!
"A lot has changed since I was in 'Neighbours', but I have no doubt the family spirit of the cast and crew remains the same. Have a great time. Oh, and Charlene says, 'Don't forget to let me know you arrived safely.' "
Madison will arrive on Ramsay Street as an inspiring journalist, returning to check on her brother Daniel (Tim Phillipps), but it won't be a smooth visit as she is set to stir up some trouble in the neighbourhood along the way.
Sarah explained: "I'm really excited to be joining the cast of 'Neighbours' to play the role of Madison Robinson. She's feisty and adventurous; just like her on-screen mum Charlene. It's been great fun onset so far and I can't wait to see what my social media audience thinks of my new role.
"I feel really privileged that my first major TV role is on such an iconic Australian programme. It's been a great experience on 'Neighbours' to learn scripts and work with the cast and crew. Everyone has been super friendly and helpful. "
'Neighbours' airs weekdays on Channel 5 at 1.45pm and 5.30pm.