Daisy Ridley recalls Harrison Ford's goodbye on Star Wars
Bang Showbiz
4 March 2016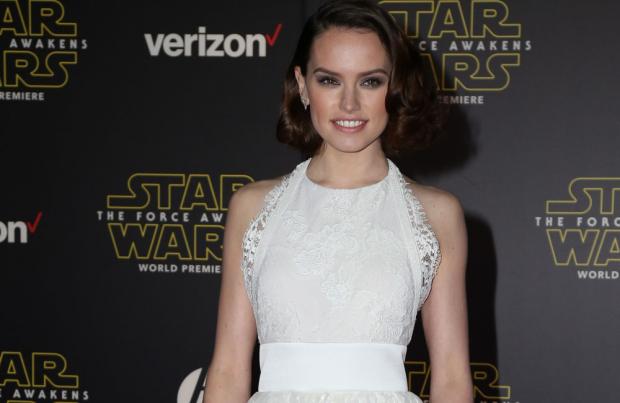 Daisy Ridley has recalled Harrison Ford's last day on the set of 'Stars Wars: The Force Awakens' and says there was a huge "somberness" on set
Daisy Ridley felt a huge "sombreness" on set the day Harrison Ford finished shooting 'Star wars: The Force Awakens'.
The 23-year-old beauty - who joined the science fiction franchise as Rey - revealed the atmosphere was notably sad but "poignant" when the veteran actor filmed his last ever scenes as his iconic character, the space smuggler Hans Solo, on 'Episode VII'
She recalled: "I remember going in the day he and Adam (Driver) were doing that scene and there was a real sombreness in the air. It was very strange and poignant. But the last day he made a great speech, and it was really nice because he's really great at speeches."
The young star witnessed the special moment the 73-year-old actor - who starred in the original trilogy - addressed the cast and crew for the last time, and vocalised many of the emotions that they were all experiencing.
But, Daisy was glad to see that he enjoyed the moment.
She added: "He really put into words what we were all thinking. There was a huge amount of appreciation. I think he - I don't want to speak for him - but I think he enjoyed it maybe, not more than he thought he would, but it was so enjoyable, the whole thing. And I think that took people by surprise."
Meanwhile, London-born Daisy says it wasn't difficult keeping details of franchise a secret, including refraining from commenting on the rumours that her character was Hans Solo's daughter - which turned out to be untrue - because they all wanted to keep the "magic" of 'Star Wars' alive.
She told 'Entertainment Tonight': "We were keeping this wonderful magic alive. And it paid off!
"The thing I found funniest is that I was the child. People were so presumptuous, like, 'You're Han Solo's daughter!' And in my head I'm like, 'How do you know? Have you seen the movie?' Clearly not, because I wasn't. That was a funny one."