Mark Rylance joins Spielberg's Ready Player One
Bang Showbiz
14 April 2016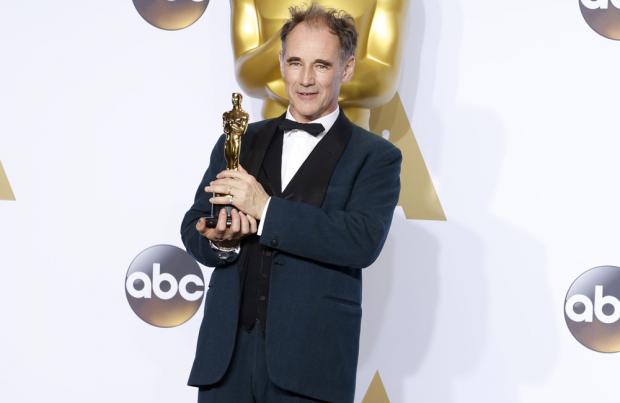 Oscar winner Mark Rylance has joined the cast of Steven Spielberg's new sci-fi movie 'Ready Player One'
Oscar winner Mark Rylance will reunite with Steven Spielberg for 'Ready Player One'.
The 56-year-old star picked up the Best Supporting Actor Academy Award for his performance as Soviet intelligence office Rudolf Abel in the acclaimed director's 2015 Cold War thriller 'Bridge of Spies' and has now joined the cast of his forthcoming science fiction thriller based on Ernest Cline's best-selling novel.
The project will be their fourth together after it was recently announced Rylance will play Pope Pius IX in the 69-year-old director's historical title 'The Kidnapping of Edgardo Mortara' and he's also landed the titular role in Spielberg's upcoming film 'The B.F.G'.
Set in a dystopian future, 'Ready Player One' sees the actor portray James Donovan Halliday, the creator of a globally networked virtual utopia known as the Oasis where users can lead idyllic alternate lives for free.
After Halliday's death a powerful cooperation called Online Industries - run by Nolan Sorrento who is played by Ben Mendelsohn in the film - attempts to take over the Oasis and monetise the venture.
However, the eccentric billionaire offers up his vast fortune after his death as the prize in an elaborate treasure hunt.
Along with gamers from around the world, outcast teenager Wade Watts - played Tye Sheridan - joins the adventure, and quickly finds himself pitted against powerful corporate foes and other ruthless competitors who will do anything, in the oasis or the real world, to reach the treasure first.
'Me and Earl and the Dying Girl' actress Olivia Cook will play Wade's love interest and treasure hunt competitor, while Simon Pegg has been cast to star as Halliday's old business partner and protector of the Oasis Ogden Morrow.