Loudon Wainwright III tickets go on sale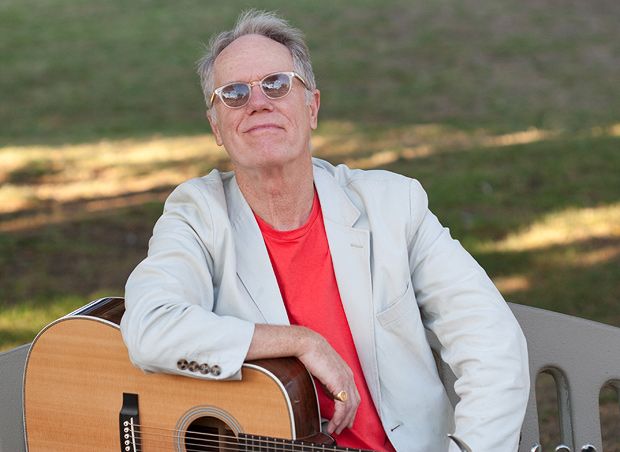 Veteran singer-songwriter tours UK in October
Loudon Wainwright III brings his remarkable back catalogue and wry way with a lyric to the UK in October. The singer-songwriter's career reaches back to the late 60s, and he was one of the earliest ever guests on Saturday Night Live, but nowadays he's as famous for his family as he is for his music (deep breath):
His first wife was the late, great singer-songwriter Kate McGarrigle, making Kate's equally great sister Anna his sister-in-law; the McGarrigles' 1976 debut album features Wainwright's perky classic 'The Swimming Song'. His son is the very fabulous Rufus Wainwright, about whom Loudon wrote 'Rufus is a Tit Man', referring to infant Rufus's breastfeeding, although it turned out to be very much untrue in the long run. His daughter is the similarly awesome Martha Wainwright, who's the subject of Loudon's song 'Hitting You', the title of which is fairly self-explanatory; Martha's most famous song about her dad is the equally-self-explanatorily-titled 'Bloody Mother-F***ing Asshole'. Despite the evident father-daughter issues, Loudon and Martha have collaborated more than once, notably on a song from his 2003 album So Damn Happy, although it's hardly surprising that it was called 'You Never Phone'.
On top of all this, Loudon's relationship with singer-songwriter Suzzy Roche of New Jersey's wonderful The Roches yielded a daughter, Lucy Wainwright Roche, who is also a singer-songwriter, making you wonder if Thanksgiving dinner round the Wainwright clan home doesn't consist of everyone complaining to everyone else about the latest songs they've all written about each other. (Note to self: idea for a musical.)
Loudon's recent output lately has been up to his highest standards: 2012's Older Than My Old Man Now and 2014's Haven't Got The Blues (Yet) have been getting high praise. He's supported by Chaim Tannenbaum, a longtime sideman to the Wainwright clan (he goes back as far as the aforementioned debut album of the McGarrigle sisters) who's combined being their on-call multi-instrumentalist with an entirely separate career as a much-loved professor of philosophy in Montreal's Dawson College.
Wed 12 Oct – Cambridge Corn Exchange
Fri 14 Oct – Bridgewater Hall, Manchester
Sat 15 Oct – De La Warr Pavilion, Bechill-On-Sea
Tue 18 Oct – Birmingham Town Hall
Fri 21 Oct – London Palladium
Mon 24 Oct – The Sage Gateshead
Tue 25 Oct – York Barbican
Sat 29 Oct – Glasgow Royal Concert Hall
Tickets on sale now.