Nitro Circus Live UK summer tour 2016 tour dates and tickets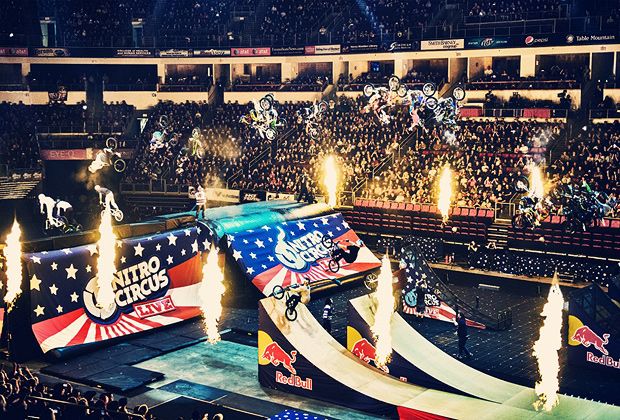 Action sports show featuring freestyle motocross and BMX touring the UK
This summer sees Nitro Circus Live hit the UK for its most extensive tour of the country so far.
The brainchild of US motorsport competitor and stuntman Travis Pastrana, Nitro Circus offers fans the chance to see death-defying stunts, tricks and world firsts up (relatively) close.
The show features a cast of daredevils performing choreographed riding routines in freestyle motocross, BMX, skate and more. A 40-foot ramp (affectionately named Giganta) will launch into the air a number of things that shouldn't really go there, such as a penny farthing, a chair and/or a bathtub.
Travis Pastrana has won numerous championships and gold medals in supercross, motocross and rally racing. Over his 32 action packed years, he's suffered an inordinate number of injuries, one of which left him in a wheelchair for three months.
Nitro Circus has previously graced the small screen for two series on MTV, and the big screen in 3D featuring contributions from Jackass alumni Johnny Knoxville, Bam Margera, Chris Pontius and Steve-O.
Fri 3 Jun – Sixways Stadium, Worcester
Sat 4 Jun – Tony Macaroni Arena, West Lothian
Sun 5 Jun – Kingston Communications Stadium, Hull
Fri 17 Jun – Parc y Scarlets, Llanelli
Sat 18 Jun – Bramall Lane, Sheffield
Sun 19 Jun – Huish Park, Yeovil
Fri 24 Jun – Gateshead International Stadium
Sat 25 Jun – Foxhall Stadium, Ipswich
Sat 2 Jul – Peterborough Arena
Sun 3 Jul – South of England Showground, West Sussex
Tickets on sale Thu 14 Apr