Flea had to relearn bass after snowboarding injury
Bang Showbiz
15 June 2016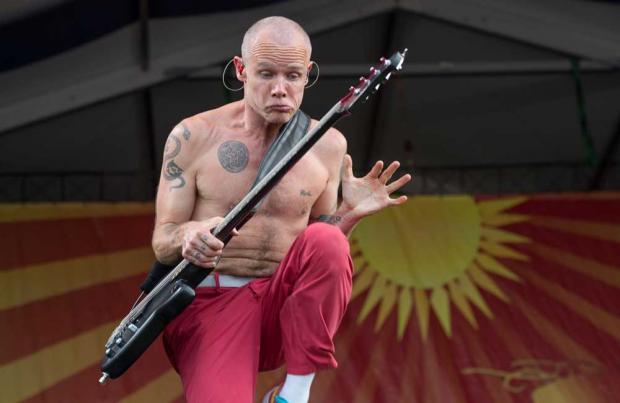 Red Hot Chili Pepper's Flea felt like he let his bandmates down when he was forced to relearn to play the bass after a nasty snowboarding injury
Red Hot Chili Peppers' Flea had to relearn the bass after his snowboarding injury.
The 'Californication' hitmakers had to delay their 11th studio LP 'The Getaway' for eight months in 2014, after the bassist broke his arm whilst on the slopes and now the 53-year-old musician has revealed the extent of his injuries and how he had to learn how play the instrument again after having large pieces of bone "shorn" of his arm.
He explained: "We were jetting down the mountain, going like, 50 miles an hour, when I just wiped out.
"It was like, bam. My arm started swelling up right away.
"I broke my arm in five places. Big pieces of bone were shorn off."
Flea - who is joined by Anthony Kiedis, Chad Smith and Josh Klinghoffer in the group - suffered with a shooting pain each time he attempted to play a note on the stringed instrument and he felt like a hindrance because they were unable to work on their LP.
He told Rolling Stone magazine: "I went to play one note and a bunch of pain shot up my arm.
"I tried to play the simplest things and my hand just wouldn't do it. It felt like I let everyone down, because we couldn't work on the record."
The rockers have been plagued with health problems as last month frontman Anthony was rushed to hospital after suffering from severe stomach pains, which forced the band to axe their KROQ Weenie Roast performance just hours before they were due to go on stage.
It was later revealed that Anthony had suffered from intestinal flu.
At the time, Flea said: "We are devastated about it. We live to rock, we live to f**king kick deep into the depths of our hearts and rock, but unfortunately there's a medical thing that happened and we need to deal with it."
'The Getaway' - which was produced by Danger Mouse - will be released on June 17 and is the band's first record since 2011's 'I'm with You'.