Chris Chibnall and Matt Strevens to co-produce Doctor Who
Bang Showbiz
14 July 2016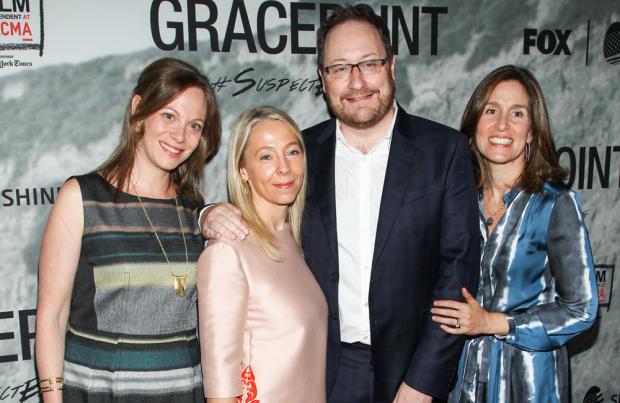 Chris Chibnall will share the executive producer role on 'Doctor Who' with Matt Strevens, who previously worked as a writer on 'EastEnders', as a producer on 'The Bill' and produced 'An Adventure in Space and Time', a TV movie which revealed how the sc-fi show was created
Chris Chibnall is to share the job as 'Doctor Who' executive producer with Matt Strevens.
The BBC announced on Twitter that producing duties on Series 11 will be taken on by both Chibnall and Strevens, whose background is as a writer on 'EastEnders', a producer on 'The Bill' and as the producer of TV movie 'An Adventure in Space and Time' which revealed how the sci-fi series was created and aired as part of Doctor Who's 50th anniversary celebrations in 2013.
The duo will take over control of the programme once showrunner's Steven Moffat final series at the helm has aired in 2017.
The tweet read: "BBC Studios Wales announces Matt Strevens to join Chris Chibnall as Executive Producer on #DoctorWho Series 11 (sic)"
The BBC mysteriously deleted the tweet from their official page, however, Strevens - who produced 'Misfits' - has confirmed the news and thanked colleagues online in the past 24 hours.
Writing to 'Misfits' actor Matt Stokoe, who tweeted a link to the news with the message "congrats", he replied: "Cheers Matt. Hope all is good with you X (sic)"
The role is a dream job for life-long 'Doctor Who' fan Strevens.
Previously speaking about his love of the show - which currently has Peter Capaldi calling the TARDIS home - he said: "I grew up watching 'Doctor Who'. My Doctor was Tom Baker and then Peter Davison. I'm a huge Peter Davison fan. I remember the 20th anniversary being 'The Five Doctors' and Richard Hurndall playing the part of the original. And I'm a fan of the reboot as well."
Chibnall has been a regular writer for 'Doctor Who' since it came back in 2005 and his most successful TV show has been ITV's murder mystery 'Broadchurch', which stars former Doctor David Tennant.