Adam Ant to tour UK in May 2017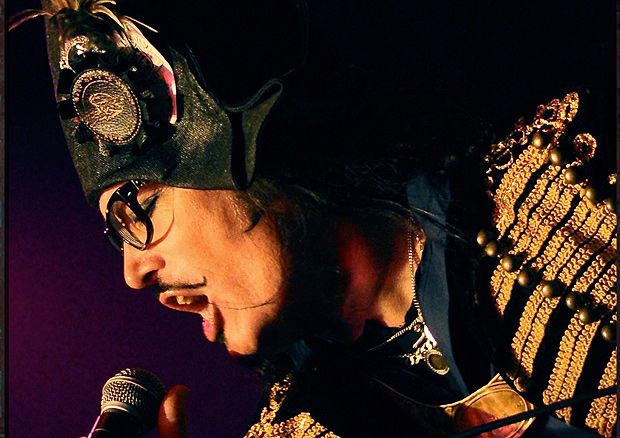 The dandy highwayman and 80s new wave icon hits the road
What was punk, anyway? Was it a musical style? An attitude? A fashion? A phase people went through? Or was it all of the above? Or just some of them? The most attractive thing about it was that it made room for the people who normally got barred at the door: the John Lydons, the Siouxsie Siouxs, the Ari Ups, the Poly Styrenes. Just as it made room for a volatile young Londoner with bipolar disorder named Stuart Goddard who, upon being discharged from mental hospital in his early 20s, named himself Adam Ant.
Adam & the Ants' career was brief, lasting from 1977 to 1982, and even then they were basically two bands. The first lineup made 1979's arch and shrieky debut album Dirk Wears White Sox, but then the entire band – with the exception of Adam himself – was poached by Malcolm McLaren, who put them together with 13-year-old singer Annabella Lwin to make Bow Wow Wow. A stunned Adam was then taken aside by McLaren, who asked him what he wanted to do with his career. Adam admitted that he'd quite like a bit of that fame and fortune thing, whereupon McLaren told him that Dirks Wears White Sox was the kind of album you got to make when you were rich, lived on a yacht and everybody ate up whatever you put out. Enter the second Ants lineup, crucially featuring long-term collaborator Marco Pirroni, which went on to have the monster hits 'Antmusic', 'Kings of the Wild Frontier', 'Prince Charming', 'Stand and Deliver' (and also 'Ant Rap', but let's not talk about that one.) They were all built on the same ingredients: heavy tribal drumming, face paint, Adam's wailing voice and everyone wearing campy vintage military uniforms, but they still have the power to get people on the floor.
Adam's solo career hasn't quite endured at the same level, but in recent years he's been touring steadily, and for some years now has been working for mental health charity SANE's Black Dog campaign, in keeping with his insistence that mental health is the last taboo. Long may your insect nation endure, sir.
Adam Ant 2017 tour dates:
Fri 5 May – Metro Radio Arena, Newcastle
Sat 6 May – Edinburgh Playhouse
Sun 7 May – Glasgow Royal Concert Hall
Tue 9 & Wed 10 May – Bridgewater Hall, Manchester
Fri 12 & Sat 13 May – Symphony Hall, Birmingham
Sun 14 May – Hippodrome, Bristol
Tue 16 May – Pavilion, Plymouth
Wed 17 May – Royal Albert Hall, London
Thu 18 May – Brighton Centre
Sat 20 May – Bournemouth International Centre
Sun 21 May – De Montfort Hall, Leicester
Mon 22 May – Regent Theatre, Ipswich
Wed 24 May – Colosseum, Watford
Thu 25 May – Cliffs Pavilion, Southend-on-Sea
Tickets on sale Wed 21 Sep.