Where to see bonfire night fireworks displays near Stirling and Falkirk 2019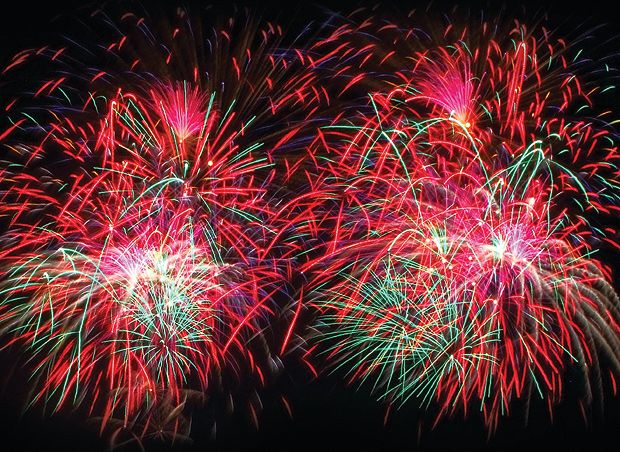 What time are the fireworks in Alloa, Linlithgow and Cumbernauld
The annual fireworks display from The Stirling and Bridge of Allan Round Table is back this year, expecting over 8000 people for the show on Tue 5 Nov. There's live music before the lighting of the bonfire as well as food and drink stalls and, of course, a spectacular fireworks display. If you fancy the bonfire night but are not a huge fan of the fireworks, head to Blair Drummond, where things kick off on Sat 2 Nov with the Briarlands Farm Bonfire Night. With the bonfire lighting up at 5pm it is truly a kids-friendly event suitable for the little ones. The Funyard is open from 4pm and the Farmers' Den Tearoom is staying open late to serve hot food and drink. The Round Table have organised more fireworks over in Alloa (Sat 9 Nov) with performances from local acts. The Sparks in the Park open their gates at 6pm.
Falkirk welcomes back the Callendar Park Fireworks Display (Tue 5 Nov), where the fireworks start at 7.30pm, with entertainment by the Sonic Blues and the Primes before. In nearby Linlithgow, there's a fireworks night at the Rugby Club (Sat 2 Nov) where all proceeds are reinvested in youth and community sports. The clubhouse and bar are open for the night with food and drink available. The main display begins at 7.30pm.
Elsewhere in Falkirk, the Dobbies Fireworks Night event lights up the sky on Fri 1 Nov next to the Dobbies Garden World. The fireworks display starts at 7.30pm followed by some Christmas shopping (that is, if you are up for it). Your ticket will give you amazing discounts on the brand new holiday holiday range. Still missing something? Why not make a complete night out of it with dinner prior to the fireworks! The unique street food menu offers a varied choice to everyone.
If you don't mind venturing a little further, head over to Cumbernauld on Mon 4 Nov. The family-friendly fireworks display starts at 7.30pm. Looking for a more traditional bonfire and fireworks combo? Visit the Airdrie Firework Display on Mon 4 Nov where the bonfire is lit at 7pm, followed by the fireworks at 7.30pm. A lovely selection of food and drinks makes sure to keep you warm. Last but definitely not least, the gorgeous Hopetoun House's annual Guy Fawkes night celebration returns, too. The Hopetoun Bonfire & Fireworks Night awaits everyone on Sat 2 Nov for a night to remember: music accompanying the display, a stunning backdrop for the pyrotechnics, and various entertainment including fire jugglers and a lively samba band. What more is there to ask for?
For more info on Guy Fawkes fireworks displays around the UK, see our Bonfire Night Guide.