Art of the Brick: DC Super Heroes LEGO exhibition coming to London in 2017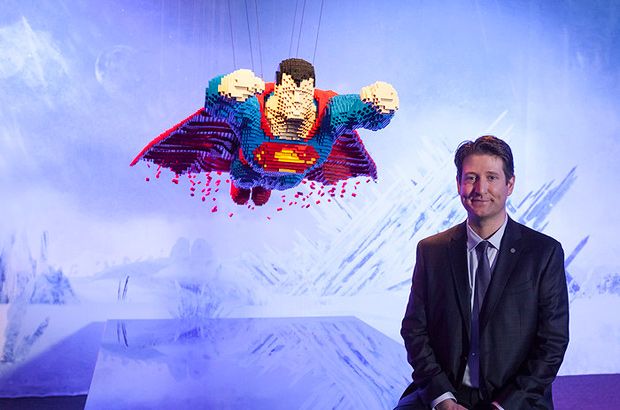 World famous LEGO exhibition will feature large scale scupltures of DC comics super heroes, including Batman and Superman
LEGO Batman is the hero we need, and whether we deserve him or not, he's coming to London's South Bank with world-renowned exhibition The Art of the Brick: DC Superheroes in March 2017.
US artist Nathan Sawaya's latest work features over 70 large sculptures, inspired by some of the comic book world's most enduring heroes and villains, and seems set to take London by storm next spring. The Art of the Brick has been described by CNN as one of the world's 10 must-see exhibitions, and who would argue, with two million LEGO bricks brought together in such glorious fashion. With new DC universe films arriving in 2017 in the form of awesome-looking summer blockbusters Wonder Woman (June) and Zack Snyder's Justice League (November), this should surely get fans warmed up.
Sawaya is inspiration for adults everywhere who dream of ditching the day job and making a career making stuff – course, not everyone thinks the stuff they'll make is with LEGO. The former corporate lawyer never gave up his childhood love of creating multi-coloured brick masterpieces, leaving his presumably very well-paid job in 2004 to become a full-time LEGO artist.
'I use LEGO bricks as my medium because I enjoy seeing people's reactions to artwork created from something with which they are familiar', explains Sawaya. 'Everyone can relate to it since it is a toy that many children have at home. I want to elevate this simple plaything to a place it has never been before. I also appreciate the cleanliness of the medium. The right angles. The distinct lines. As so often in life, it is a matter of perspective. Up close, the shape of the brick is distinctive. But from a distance, those right angles and distinct lines change to curves.'
The artworks on display, many of which are human figures, also include a T. rex skeleton that measures over six metres in length, constructed from over 80,000 LEGO bricks. Visitors also have a chance to see interpretations of some of the world's most famous artworks, such as the Venus de Milo, Leonardo's Mona Lisa and Vermeer's Girl with a Pearl Earring.
Presale tickets for The Art of the Brick: DC Superheroes are on sale now, general tickets on sale Thu 15 Dec at 10am.
The Art of the Brick: DC Super Heroes, Doon Street Car Park, London, Wed 1 Mar–Mon 4 Sep 2017