Alice Cooper's US gig under threat by noise-hating woman
Bang Showbiz
3 March 2017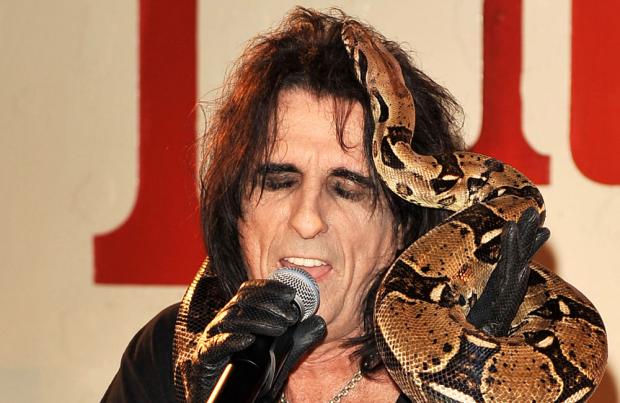 Alice Cooper's show in the Minnesota City of Mankato on June 9 is at risk of being banned by a local resident who is not happy about the noise levels coming out of the concert hall
Alice Cooper's gig in Mankato in the US has come under threat by a woman who wants to get his show banned due to noise levels.
Barb Church, a local resident in the City of Minnesota, is attempting to hijack the 69-year-old shock rocker's planned gig at the Vetter Stone Amphitheater on June 9, because she feels "virtually tortured almost every single weekend" by house-shaking noise caused by concerts there, and she is particularly keen to get the 'Poison' hitmaker's show shut down because she doesn't like the "foul language" and lyrics about suicide in his songs.
She told of how when rapper Nelly played there last autumn the noise level reached 110 decibels at her home causing her walls to shake.
The Southern Minnesota News reports that Church told a panel from the North Mankato City Council: "Now in 2017, the first act that I've seen that is being publicised is Alice Cooper and I'm to tell you here that I think Alice Cooper is going to be very similar to Hairball and Nelly," said Church.
"Having now looked up the lyrics...I don't think it's wise for our community to have to listen to foul language. I don't think we have to listen to things about suicide."
However, in true Alice Cooper style, the outspoken star responded with a joke saying that he would kindly let his pet snake deliver a set of earplugs to Church.
Taking to Twitter to share the story, he quipped: "Across the river from my #Mankato gig is a woman who hates noise. I'll have my snake swim over some earplugs (sic)"
The 'Feed My Frankenstein' singer brings his noise to the UK this November.
Alice's UK tour dates are as follows:
11th - Leeds - First Direct Arena
12th - Glasgow - The SSE Hydro
14th - Birmingham - Barclaycard Arena
15th - Manchester - Manchester Arena
16th - London - The SSE Arena, Wembley