First look at Take That musical The Band, headed for venues across the UK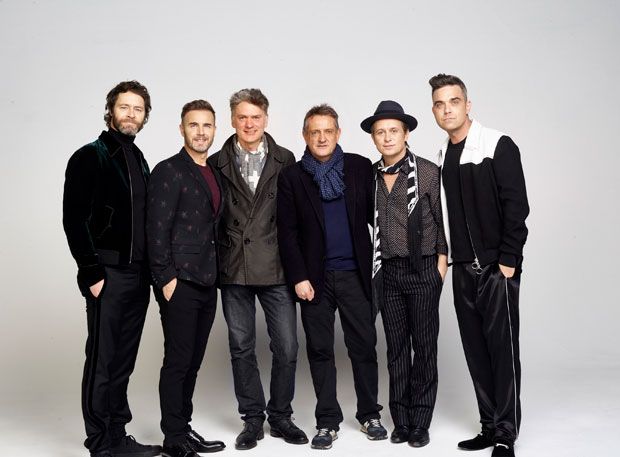 As tickets go on sale for The Band, we talk to Gary, Mark, Howard and Five to Five about the show
Take That are standing on the stage at Manchester Apollo Theatre feeling a wave of nostalgia. In 1992, they gave their first gig on that very stage to a cacophony of screams – and 25 years later, Gary, Mark and Howard are back to launch their new musical, The Band.
Inspired by the true story of a Take That fan, The Band is the tale of five 16-year-old girls, all besotted with the same group. The music is the soundtrack to their lives, always there in the background helping them through highs and lows, until they meet again as adults.
'We met 16-year-old kids who were outside our houses and at our gigs screaming, and we saw them grow up,' said Mark Owen. 'And that is the story of Take That in many ways – our audience and the support they've given us. We sometimes say we're just a vehicle for them to all get together. We've always had a great relationship with our audience, and that's one of the reasons we were so keen to do this, it was just about finding the right story.'
Written by Tim Firth, the man behind hit film Calendar Girls and its musical adaptation, The Girls, the show's songs will be performed by Five to Five, winners of BBC One talent show Let It Shine.
'This is all new for us, to be able to sit in an audience and watch our music being performed,' said Gary Barlow. 'We're so proud of everybody. And one of the things we love is the show pays the ultimate respect to the audience, to the people who have loved the music, supported it and made it part of their lives. It's a beautifully written story that will make you laugh and cry.'
With such a large back catalogue to choose from, the team has been spoilt for choice, with final decisions still being made – although scenes have already been shaped around 'Pray' and 'Could it be Magic'.
'It's a weird one when it comes to the songs, and that's what brings out the emotion for us,' said Howard Donald. 'Because we didn't actually write these songs for a musical, or for the situation these young group of girls are in. But there was a guide to how these songs were chosen.'
For AJ Bentley, Nick Carsberg, Yazdan Isfahani, Curtis Johns and Sario Watanabe-Soloman, aka Five to Five, the transition from TV talent show to rehearsals has been swift. 'On the night we won the show, Gary said to us "the hard work starts tomorrow morning" – and it did,' said Bentley. 'We had all the tracks to learn, the dance routines, we've definitely been kept busy.'
'We're quite concerned,' chips in Owen, 'because they're getting very, very good …'
As for the other two former Take That members, Robbie Williams has, according to co-producer David Pugh, 'been in rehearsals, is thoroughly involved and loving it' and Jason Orange 'has been sent scripts, has come back with comments and is here in spirit'.
Tickets for The Band go on sale at 12pm on Monday 3 April.
Full 2017–2018 tour dates for The Band:
8–30 Sept – Opera House, Manchester
4–14 Oct – Lyceum Theatre, Sheffield
17–28 Oct-- Alhambra Theatre, Bradford
31 Oct–11 Nov – Mayflower Theatre, Southampton
14–25 Nov – Venue Cymru, Llandudno
28 Nov–9 Dec – Regent Theatre, Stoke-on-Trent
9-20 Jan 2018 – Wales Millennium Centre, Cardiff
23 Jan–3 Feb 2018 – Liverpool Empire Theatre
6–17 Feb 2018 – Norwich Theatre Royal
20 Feb–3 Mar 2018 – The Marlowe Theatre, Canterbury
6–17 Mar 2018 – Hull New Theatre
20–31 March 2018 – Leeds Grand Theatre
3–14 April 2018 – Newcastle Theatre Royal
17–28 Apr 2018 – The Bristol Hippodrome
1–12 May 2018 – Birmingham Hippodrome
15–26 May 2018 – Theatre Royal Plymouth
29 May–9 Jun 2018 – Royal & Derngate, Northampton
12–23 Jun 2018 – Theatre Royal Nottingham
26 June–7 Jul 2018 – King's Theatre Glasgow
10–14 Jul 2018 – Edinburgh Playhouse