Will Smith to join DJ Jazzy Jeff for UK festival
Bang Showbiz
24 April 2017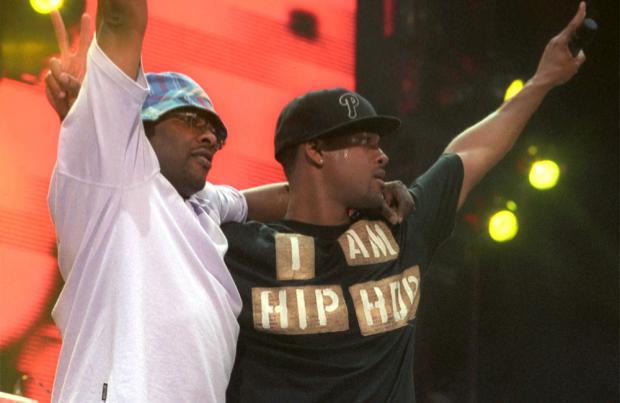 Will Smith and DJ Jazzy Jeff are reuniting to headline the LIVEWIRE Festival in Blackpool, England, this summer along with The Jacksons and Pete Waterman's Hit Factory artists
Will Smith and DJ Jazzy Jeff are reuniting to headline the LIVEWIRE Festival this summer.
The 48-year-old actor-and-rapper is getting back on stage with his long-time friend - whom he performed with under the name DJ Jazzy Jeff & The Fresh Prince, a nod to his TV series 'The Fresh Prince of Bel-Air' - to top the bill at the music event in Blackpool, England, which will be held over the weekend of August 25 to August 27.
Not only will festival-goers see the pair perform their biggest hits, such as 'Summertime' and 'Boom! Shake the Room', but they will also be able to watch The Jacksons and some of the biggest pop hits of the 1980s as part of Pete Waterman's Hit Factory including the producer himself as well as Jason Donovan.
A LIVEWIRE spokesperson said: "This is LIVEWIRE Festival's first year and we are thrilled to be launching this fabulous weekend of music. We can't wait to bring Will Smith and DJ Jazzy Jeff, The Jacksons, Jason Donovan and more to Blackpool, the best location in the UK for entertainment."
The festival will be held at the Blackpool Headland Arena and tickets go on sale on Tuesday (25.04.17) at 10am from livewirefestival.co.uk.
Jeff, 51, is a regular on the festival circuit and has made no secret of his wish to get his friend Will back on stage with him.
Jeff's dream would be for the duo to bring their brand of hip hop to the world famous Glastonbury Festival.
Speaking to BANG Showbiz previously, he said: "We've had interest in Glastonbury, whenever the decision comes down, I'm there. The hardest part of us doing this [reuniting] is the clearing of the schedule. I tour about 180 days out of the year but he makes movies so it's more on his side of having to clear a schedule for us to be able to rehearse and go on the road. Sometimes it gets a little hard with him being one of the biggest movie stars in the world to free up his time. But he absolutely, positively wants to do this."