PVRIS thought Muse and Thirty Seconds to Mars tour was 'a joke'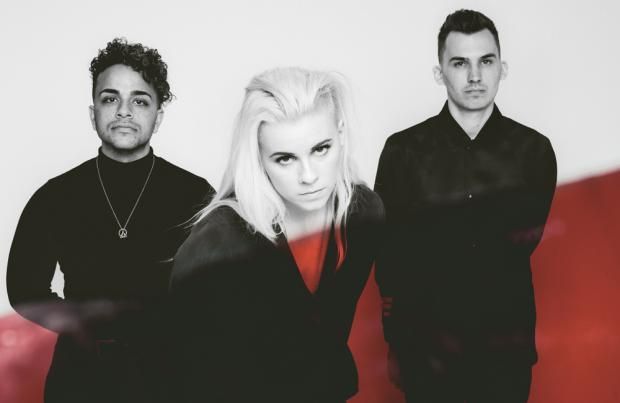 PVRIS have admitted they were "freaked out" when they found out they are the chosen support act for Muse and Thirty Seconds to Mars' North American tour this summer and thought it was "a joke"
PVRIS thought it was a "joke" when they found out they'd been chosen to support Muse and Thirty Seconds to Mars on their forthcoming joint tour in North America.
The 'Heaven' hitmakers - who sold out the first of two O2 Shepherd's Bush Empire shows on Thursday (04.05.17) - couldn't believe their luck when they had a conference call with their team, who told them they have been invited to join the two massive rock bands for their shows this summer, and "freaked out" afterwards.
Asked how it come about, frontwoman Lynn Gunn exclusively told BANG Showbiz: "They asked us. We didn't even submit for it or anything. We got the offer and thought, 'This is a joke'."
Guitarist Alex Babinski added: "We had a conference call with our management and we all freaked out."
Lynn, 23, was "annoyed" before she knew what the call would entail because she was out walking with her family and was "freezing", but wasn't so "mad" when she found out the news.
Lynn laughed: "I was on a walk with my mum and my brother's dog and it was freezing. They were like, 'OK, we are calling you in 10 minutes and I was like, 'What is this about?' I was annoyed because it was freezing and then they told us and I was like I'm not so mad anymore. It's four or five dates spread out over four months."
The 'St. Patrick' trio had both Muse and 30STM on their wish list from the moment they formed in 2012, and bassist Brian MacDonald says it's "weird" that they will get to live out their dream.
Asked if they've met Muse or 30STM before, he said: "No. So when we started the band and thinking what bands do we want to tour with? And Muse and Thirty Seconds to Mars were two of the bands that were the dream for us.
"And now that it has come full circle, it is kinda weird that it has happened."
PVRIS release their new album 'All We Know of Heaven, All We Heed of Hell' on August 4.