Get tickets for time-travelling disco party Hot Dub Time Machine during the 2017 Edinburgh Festival Fringe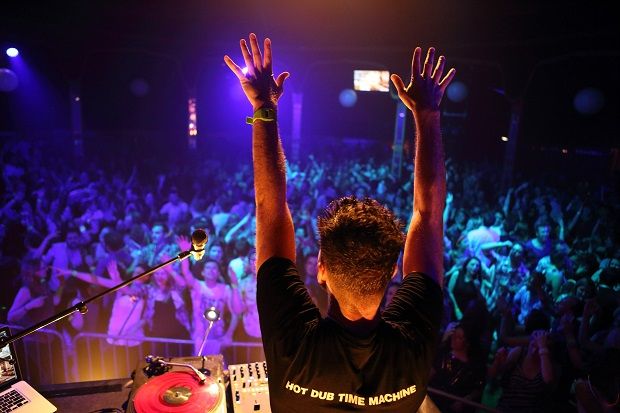 Extraordinary club night adds extra date due to demand on Fri 11 Aug
**UPDATE: Wed 17 May**
Due to high demand and in no way pre-planned at all, srsly, Hot Dub Time Machine has added an extra date during the Edinburgh Festival. The world famous party will now come to Edinburgh a day early on Fri 11 Aug, with tickets on sale at 9am on Thu 18 May. Tickets for Sat 12 Aug have sold out.
---
Hot Dub Time Machine has announced a return to Edinburgh in 2017, with tickets available now.
The sensational club night – started by Aussie DJ Tom Loud in 2011 – is a time-travelling musical extravaganza, a journey through six decades of popular music that takes in 60s rock and 70s disco, and embraces every year from then until the present day.
From humble beginnings, Hot Dub has returned to Edinburgh every year, growing in size every time, and in 2017 will be based for one glorious night on Sat 12 Aug at the Royal Highland Centre. With some seriously high-end production planned it's set to be an audio-visual experience that – even by Hot Dub standards – is the talk of the town.
If you want to hear Skrillex, The Beatles, Beyonce and The Kinks under one roof, in one right, then this is the club night for you. Styling the last edition of his creation as the 'biggest fringe party ever', Loud seems confident Hot Dub will be the best night of the summer. Who'd want to miss out?
Tickets for Hot Dub Time Machine at the Royal Highland Centre on Sat 12 Aug are on sale now.