Buy tickets for RAIN's shows in celebration of The Beatles' Sgt Pepper's Lonely Hearts Club Band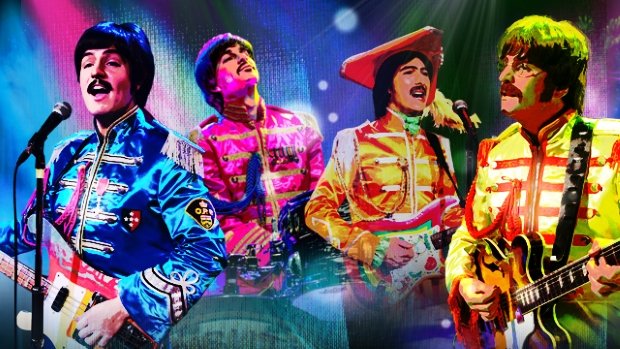 Renowned tribute group play the seminal album across the UK in October 2017
50 years since the release of The Beatles' seminal concept album Sgt Pepper's Lonely Hearts Club Band, tribute act RAIN have announced a run of celebratory UK shows, with tickets on sale Wed 24 May at 10am.
The group take the Sgt Pepper show to Glasgow's SEC Armadillo on Sun 1 Oct, to Llandulno's Venue Cymru on Mon 2 Oct and Portsmouth's Guildhall on Wed 4 Oct. After that they perform a three-night residency at London's Palladium from Thu 5 Oct to Sat 7 Oct.
Released in 1967, Sgt Pepper is undoubtedly one of the most influential albums in the history of popular music. While not the most committed of concept albums, its experiments with the album as an art form had a big impact in the musical world. It includes a bona-fide Beatles masterpiece in 'A Day in the Life', as well as 'With A Little Help From My Friends' and the orchestral 'She's Leaving Home' – a song which none of Lennon, McCartney, Harrison Starr or Harrison played an instrument on.
RAIN was formed in 1975 in Laguna Beach, California, by Mark Lewis, Eddie Lineberry, Bill Connearney, Grant Belotti, Chuck Coffey, and Steve Wight. With a rotating cast, it's the longest-running Beatles tribute in the world, having evolved into a theatre production documenting the rise – and subsequent world domination – of the Beatles.
RAIN: 50 Years of Sgt. Pepper's Lonely Hearts Club Band UK tour dates 2017:
Sun 1 Oct – SEC Armadillo, Glasgow
Mon 2 Oct – Venue Cymru, Llandulno
Wed 4 Oct – Guildhall, Portsmouth
Thu 5 Oct – Palladium, London
Fri 6 Oct – Palladium, London
Sat 7 Oct – Palladium, London
Tickets go on sale on Wed 24 May at 10am.