English National Opera reveals details of its 2017/18 season – buy tickets now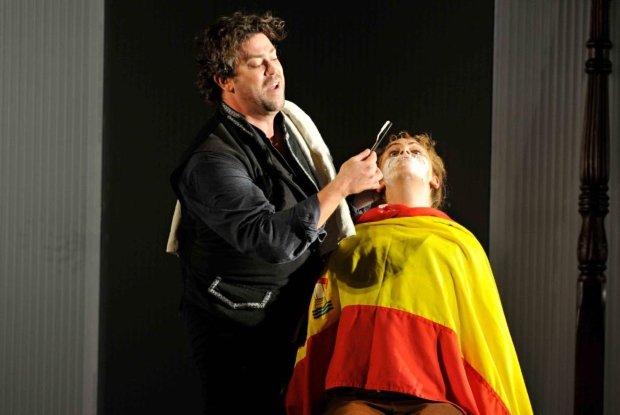 Four new productions and five revivals are lined up for the London Coliseum, with classics and contemporary performances side by side
English National Opera has announced details of its 2017/18 season, with four new productions planned as well as five revivals. Tickets are available now.
Two new Verdi productions, the timeless operatic love story Aida – directed by Phelim McDermott – and the sweepingly romantic La Traviata – from the ENO's Artistic Director Daniel Kramer, come to the London Coliseum. In addition, Marnie – the Winston Graham novel that was adapted into an Alfred Hitchcock film starring Sean Connery – makes its world premiere as an opera, with composer Nico Muhly and Tony Award-winning director Michael Mayer on board.
Gilbert and Sullivan's fantasy political satire Iolanthe rounds off the new productions, with Director Cal McCrystal – known for his work with The Mighty Boosh and Cirque du Soleil – sure to bring his comedic touch to proceedings.
Elsewhere, there's a return for Jonathan Miller's hysterically funny production of The Barber of Seville and revivals of both Richard Jones's Olivier Award-winning Rodelinda and Robert Carsen's magical A Midsummer Night's Dream.
Phelim McDermott returns for his second show of the season to direct Philip Glass's Satyagraha – which focuses on the life of Mahatma Ghandi – and the final production of the season is Mozart's The Marriage of Figaro, directed by Fiona Shaw.
Staying true to the London's Coliseum's original slogan – Pro Bono Publico, for the public good – the ENO will stage a range of productions over the summer months at different venues across London, aiming to develop artists and stars of the future, from singers to composers, directors to conductors. They also aim to visit unconventional venues and locations, presenting the opera in fresh and interesting ways, with a view to attracting new, different and diverse audiences.
ENO's Artistic Director, Daniel Kramer, said: 'I am thrilled that our audiences will have the opportunity to enjoy such a wide range of fantastic repertoire from the masterpieces of Handel and Mozart right through to the contemporary work of Philip Glass and Nico Muhly.'
English National Opera 2017/18 season at London Coliseum:
Thu 28 Sep-Sat 2 Dec 2017 – Aida
Fri 5 Oct-Tue 30 Oct 2017 – The Barber of Seville
Thu 26 Oct-Wed 15 Nov 2017 – Rodelinda
Sat 18 Nov-Sun 3 Dec 2017 – Marnie
Thu 1 Feb-Tue 27 Feb 2018 – Satyagraha
Tue 13 Feb-Sat 7 Apr 2018 – Iolanthe
Thu 1 Mar-Thu 15 Mar 2018 – A Midsummer Night's Dream
Fri 16 Mar-Fri 13 Apr 2018 – La Traviata
Thu 29 Mar-Sat 14 Apr 2018 – The Marriage of Figaro
Tickets for The English National Opera's 2017/18 season are on sale now.