Andrew W.K. announces tour of the UK in November 2017, find out how to buy presale tickets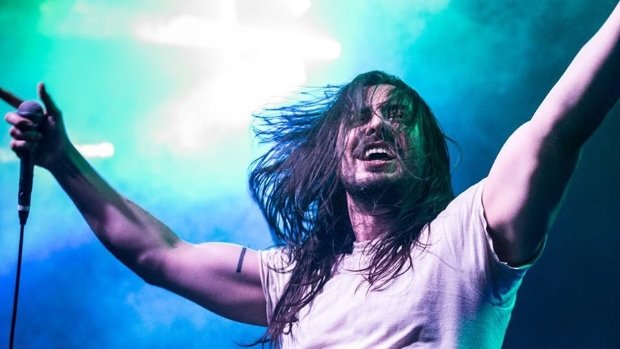 Singer, public figure and renowned authority on having a good time brings 'The Party Never Dies Tour' to a city near you
The undisputed king of partying, Andrew W.K. has announced his first full band tour of the U.K. in five years, with presale tickets available Thu 15 Jun at 10am, and tickets on general sale Fri 16 Jun at 10am.
The California born, Michigan raised, New York resident is readying his first album in a decade, but in the meantime he's keeping busy, preparing what he calls the 'total live concert experience', coming to a city near you soon in November. 'The Party Never Dies Tour' kicks off at Portsmouth on Thu 9 Nov, and takes in London, Cardiff, Norwich, Manchester and Glasgow, before finishing up at Birmingham's O2 Academy, on Wed Nov 15. That's seven shows in seven nights – no rest for the wicked, or those who love to party.
Andrew W.K.'s breakout release I Get Wet was released in 2001, and featured the fist-pumping singles 'Party Hard' and 'She Is Beautiful'. W.K branched out into more sensitive territory with 2003's The Wolf, but these days claims to be, and I quote: 'a one-man music machine possessed of a single-minded, monomaniacal focus to spread a singular message: That to party is to exist, and to exist is to party.' The man's the world's foremost authority on partying, a scholar even, and has given talks on the subject at Yale, Harvard and Oxford University, to name but three academic titans.
When Andrew W.K. isn't partying he likes to relax on his local golf course, and can often be found with his feet up enjoying a challenging puzzle, or re-runs of Last of the Summer Wine. Only joking! Must keep partying...
Andrew W.K. UK Tour Dates 2017:
Thu 9 Nov – Wedgewood Rooms, Portsmouth
Fri 10 Nov – O2 Forum, London
Sat 11 Nov – Great Hall, Cardiff
Sun 12 Nov – Waterfront, Norwich
Mon 13 Nov –O2 Ritz, Manchester
Tue 14 Nov – Garage, Glasgow
Wed 15 Nov – O2 Academy, Birmingham
Presale tickets for Andrew W.K are available Thu 15 Jun at 10am. Tickets go on general sale Fri 16 Jun at 10am. Party hard, but responsibly, folks.