Thirty Seconds To Mars album coming 'soon'
Bang Showbiz
14 June 2017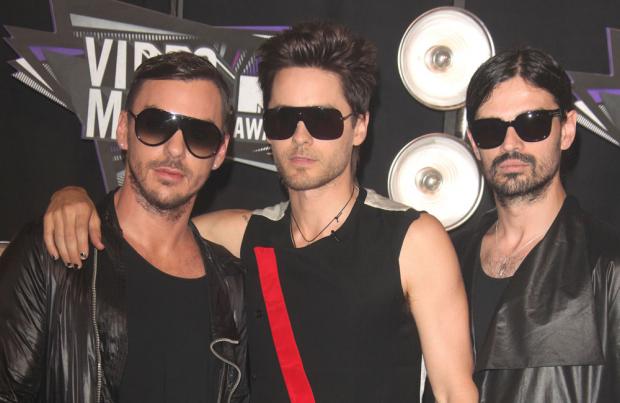 Thirty Seconds To Mars have teased their new album will be released "soon" in a new video posted to their Twitter account
Thirty Seconds To Mars have teased their new album will be released "soon".
The rock group - comprised of brothers Jared and Shannon Leto, and Tomo Milicevic - took to Twitter on Tuesday (13.06.17) to share a teaser trailer with their fans in which they said their fifth studio album is on the way.
In the clip, frontman Jared can be seen walking out from their tour bus wearing a glittery mask, whilst music - which could be a snippet from an upcoming track - plays in the background.
At the end of the video, the words "The new album, coming soon" can be read on screen.
The tweet was captioned: "THE NEW ALBUM / COMING SOON. (sic)"
A new album for the 'Beautiful Lie' hitmakers would mark the first since 2013's 'Love, Lust, Faith and Dreams', and will come after 45-year-old Jared took a break from his music career to star in movies such as 'Suicide Squad', where he played The Joker.
Meanwhile, earlier this year, Jared shared a teaser video on his Facebook page which hinted that the record - which is yet to have a confirmed title - is about to drop.
The 'Kings and Queens' singer previously admitted he never expected the group - who released their self-titled debut LP 14 years ago - to still be going strong, but that he is very excited about their upcoming fifth record.
He said: "We are working on our fifth album now, which is incredible. We never thought we would get this far.
"We're almost done with it and it looks like it will be out in 2017."
The group will release the new album on Interscope after previously being involved in a battle with EMI/Virgin Records when they tried to get out of their contract, eventually leaving the label in 2014.