Queens of the Stone Age announce London O2 Arena date, plus shows in Edinburgh and Manchester, find out how to buy tickets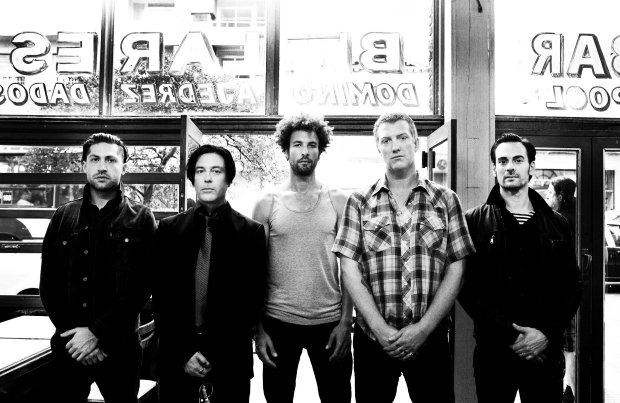 Josh Homme's rockers return to the UK in November, with tracks from soon to be released seventh album Villains
Queens of the Stone Age have announced a massive show at London's O2 Arena on Tue 21 Nov with presale tickets available Tue 20 Jun at 9am, and tickets on general sale Wed 21 Jun at 9am.
The announcement comes fresh off the back of news that Josh Homme's rock heavyweights will release seventh studio album Villains later this year.
The record, their first since 2013's Like Clockwork, was announced through a Liam Lynch directed clip, in which Homme is hooked up to a lie detector and attempts to deny that the album is called Villains, that the first single will be called 'Feet Don't Fail Me' and that it was produced by Mark Ronson.
Speaking of the album, Homme said: 'The title Villains isn't a political statement. It has nothing to do with Trump or any of that shit. It's simply a word that looks fantastic and a comment on the three versions of every scenario: yours, mine and what actually happened. Everyone needs someone or something to rail against – their villain – same as it ever was. You can't control that. The only thing you can really control is when you let go.'
With a lineup that's changing, Homme has been the only consistent member since the release of QOTSA's self-titled debut album in 1998, enlisting a cast that's at times included Mark Lanegan and Dave Grohl, who played drums on 2002's Songs For The Deaf.
No matter the personnel, it's the same titantic rock show every time. Don't miss out on this one.

Queens of the Stone Age UK tour dates 2017:
Sun 19 Nov – Manchester Arena
Tue 21 Nov – O2 Arena, London
Thu 23 Nov – Usher Hall, Edinburgh
Presale tickets for Queens of the Stone Age go on sale Tue 20 Jun at 9am, tickets on general sale Wed 21 Jun at 9am.