Where to see bonfire night fireworks displays in London 2021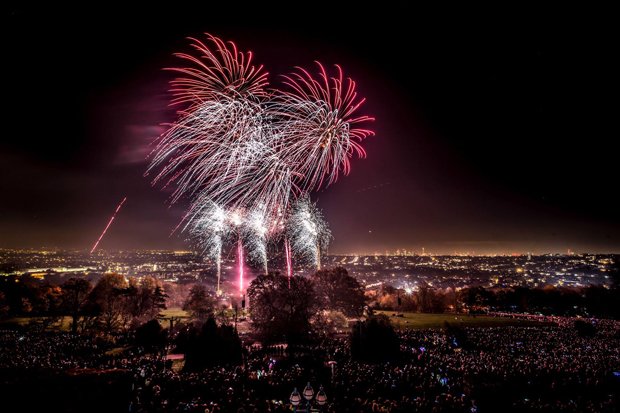 What time are Guy Fawkes fireworks in North, East, South and West London and the surrounding area
After the damp squib of Bonfire Night 2020, we're all in the mood to watch pretty lights explode above our heads. And if you want to bathe next to the warmth of a bonfire in London, you're well catered for.
From traditional firework extravaganzas to happening cultural events, there's plenty on offer if you're hunting for a Bonfire Night to remember. There are fewer displays this year, so make sure to book your tickets far in advance before they sell out.
As ever with event round-ups like this, covid could change the scheduling listed below. Please check official sites for the most up to date information before you make your trip.
Alexandra Palace Fireworks Festival
The most expansive fireworks festival in London is returning to Alexandra Park and offering the same epic range of events, including a night of live music, fairground rides, massive bonfires, street food and drinks, film screenings in a Victorian theatre, the UK's largest German bier festival, sets from high profile DJs, a gorgeous ice rink and, of course, an iconic fireworks display. Taking place on Friday 5 and Saturday 6 November, this is quite literally the biggest display in the whole of the UK.
Tickets for Alexandra Palace Fireworks Festival are available from See Tickets. Gates will open at 4pm.
Wimbledon Park Firework Display
After a year out, the Wimbledon Park Firework Display is returning with a bang on Friday 5 and Saturday 6 November. Featuring two themed displays on each evening (one with Disney songs, the other James Bond), you and your family will be able to experience a fun fair, food stalls and much more in one of the biggest displays in London.
Tickets for the Wimbledon Park Firework Display are available from See Tickets. Gates will open at 5pm.
Battersea Park Fireworks
Prepare to see the night sky come to life above Battersea Park on Friday 5 and Saturday 6 November with Wandsworth Council's official display. Playing host to 50,000 attendees every year, this packed out event is teeming with food stalls and entertainments from 6pm onwards. The 2019 edition of Battersea Park display also played host to its first after-party, featuring music, drinks and dancing until late. While no official announcement has been made of its return, we're crossing our fingers.
Tickets for Battersea Park Fireworks are available from Enable Leisure & Culture. Gates will open at 6pm.
Eton Manor Fireworks
Teaming up with Jubilee Fireworks, the Eton Manor Fireworks display promises a bar open from 1pm, food from 5pm and a spectacular fireworks display from 8pm. This family friendly event is perfect if you don't fancy a sojourn into central London on a chilly November evening.
Tickets for Eton Manor Fireworks are available from Eventbrite. Gates will open at 6pm.
Danson Park Fireworks
Located in Bexleyheath on the outskirts of London, the Danson Park fireworks display promises to be a grand occasion, and boasts of being one of biggest charity events in the South East of England. Enjoy live music from Amelia Street and Paisley Park before the great display at 8pm. The price of tickets will increase on the day of the event, so book now for a discounted rate.
Tickets for Danson Park Fireworks are available from Skiddle. Gates will open at 6pm.