Where to see bonfire night fireworks displays in Leicester, Loughborough and Melton Mowbray 2019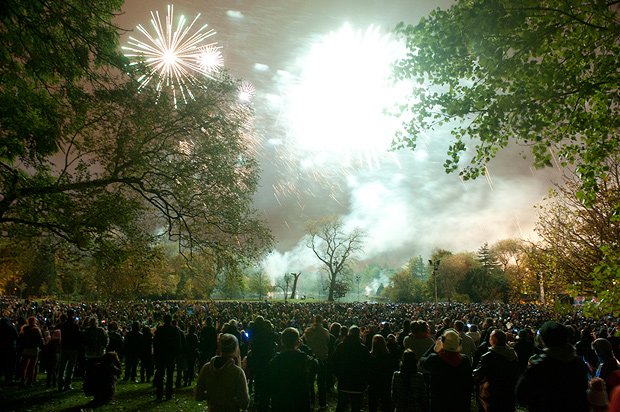 What time are Guy Fawkes fireworks at Mallory Park, Abbey Park, Quorn and Woodhouse Station, Loughborough Students' Union, Play Close and Twinlakes Park
Remember, remember the fifth of November, gunpowder treason and plot. This year the fifth of November is a Tuesday, so there are lots of displays taking place in the days leading up to the official Bonfire Night.
Leicester
In Leicester, on Fri 1 Nov head on down to Mallory Park for the Annual Fireworks Extravaganza. As ever, the fireworks display is set to live music, and there'll be a fun fair, a licensed bar and food stalls to keep you busy until the sky lights up. Gates open at 5pm, live entertainment starts at 6pm while the fireworks begin at 7.30pm. This year's theme is Halloween. On Sat 2 Nov, boogie on down to the Abbey Park Bonfire and Firework Display, featuring live music, a fun fair and stalls as well as two fireworks displays: a smaller one for children and a main one for adults. This year there's also a live lightning and sound show entitled 'Lords of Lightning', shooting million-volt bolts of lightning across the night sky. Truly not one to miss.
Also on Sat 2 Nov is the Rainbows Festival of Fireworks at Leicester Racecourse. This annual family-friendly bonfire night offers up a funfair, stalls and hot food, plus live music from Eva Rose and more. Gates open at 5.30pm with the childrens' fireworks display at 7pm. The bonfire is lit at 7.30pm and the main display takes place at 8pm. Why not take it to the next level? Buy one of the hospitality packages and enjoy the evening from a private room with a two-course meal and access to your own bar.
Sticking to Sat 2 Nov, visit the Fireworks Evening at Leicestershire County Cricket Club, featuring a spectacular light and laser show accompanying the fireworks starting at 7.30pm. Kids can enjoy face painting and fairground rides, and if you feel like treating yourself this night, just book a private box with a balcony and cushioned seats.
Elsewhere in Leicester the Old Black Horse Bonfire & Fireworks Display is held on Sun 3 Nov, with the bonfire lighting up at 6pm and the fireworks starting at 6.45pm. There will be hot chocolate, mulled cider, local beers as well as a delicious BBQ and hog roast to keep you warm. And if you are all for the traditions and prefer to celebrate Guy Fawkes' failed attempt on 5 Nov proper, the Illston Charity Bonfire has you covered. The free event offers live music, a funfair, hot drinks and food with the fireworks at 8.15pm. Need more persuading? How about the fact that you'll also have the chance to meet LCFC players James Maddison and Ben Chilwell? Not bad, right?
Loughborough
In Loughborough, combine a night of fireworks with a train ride at Quorn and Woodhouse Station's Bonfire Night on Tue 5 Nov. Travel heritage-style from Loughborough, Rothley or Leicester North stations to enjoy a bonfire, fireworks and a variety of catering stalls. Gates open at 6.15pm and the bonfire is lit at 7.30pm, followed by a stunning fireworks display. The Wicked Hathern Fireworks & Bonfire at Dishley Grange Farm (Sat 2 Nov) will also have live music and a silent fireworks display for little ones who like the lights but aren't so keen on the noise at 6.45pm. Gates open at 5.30pm and the main display happens at 8pm.
Also on Sat 2 Nov, the Loughborough University Students' Union's Rag Fireworks Extravaganza returns with fairground rides, food outlets and two fireworks displays, while the Long Whatton Cricket Club Bonfire Night & Fireworks Display awaits everyone living in or visiting their village, offering an inside and an outside bar, live music and a lit bonfire at 7pm, followed by fireworks at 7.30pm.
Cannot make it on Saturday? The Firework Spectacular organised by Sileby Town Cricket Club celebrates the night on Fri 1 Nov while the Bonfire and Fireworks Extravaganza held by Sutton Bonington Primary School opens its gates on Sun 3 Nov for a fundraiser night with hot drinks, jacket potatos and a spectacular fireworks display.
Melton Mowbray
Over in Melton Mowbray, things kick off early on Thu 31 Oct with a Halloween Bonfire & Fireworks at Play Close. Take part in the fancy dress competition, enjoy themed-food and watch a frighteningly good fireworks display. If you fancy making a whole day of it, head east to Twinlakes Park on Sat 2 Nov to celebrate their 16th anniversary whilst enjoying rides, attractions and the farm park before witnessing two Fireworks Displays. The tiny toddlers display takes place at 6.45pm, followed by the main display at 7.15pm. This year will mark the first ever musical-themed night for the park, featuring songs from The Greatest Showman.
Hinckley
The charming town of Hinckley celebrates with two events both happening on Sun 3 Nov. Hinckley Rugby Club Firework Fiesta combines sport with fun: watch the Leicester game on the big screen from 2pm, then enjoy a wide selection of food and drinks both inside and out of the clubhouse. There will be live music from pub singers as well as fire eaters to get you in the mood for the big fireworks display. And if one display isn't enough for you, head to the Burbage Bonfire & Fireworks Display where you will see three displays with a five minute interval in-between each starting from 6pm.
Coalville
On Sat 2 Nov The George and Dragon Bonfire Night is back with their annual free event featuring a bonfire with inside and outside bars, tasty food, games and a DJ to keep the party running 'til late. If you're busy over the weekend before 5 Nov, why not celebrate it after? Broomleys Cricket Club Fireworks Night is held on Sat 9 Nov this year with hot food, a bouncy castle, face painting sessions and fireworks starting at 7.30pm.
Swadlincote
Last but definitely not least, from Sat 2 to Sun 3 Nov visit the Conkers Fireworks Spectacular for a rich two-day family event with a laser show disco, fairground rides, face painting, balloon modelling, tombola, craft activities, a licensed bar and plenty of drinks and food stalls. Doors open at 5.30pm.