Where to see bonfire night fireworks displays near Nottingham and Derby 2019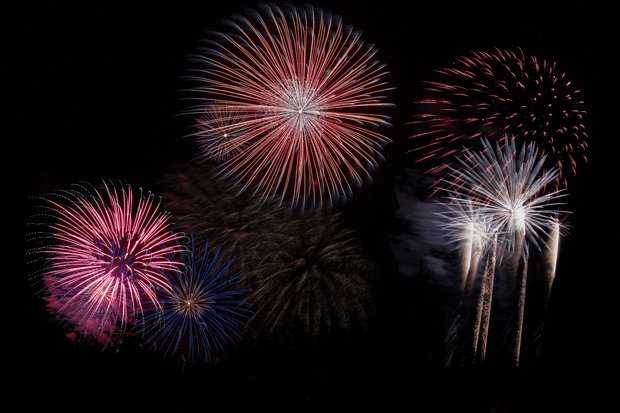 What time are Guy Fawkes firework displays in the town centres, Widmerpool, Mickleover and Alton Towers
If you're in the Nottingham or Derby regions in and around this Bonfire Night, you have plenty of options when it comes to firework displays. As with the rest of the country, most of the action takes place on Sun 3 Nov rather than Guy Fawkes Night itself, since it gives you more chance to sample hot food, visit the bar and dance the night away without the pressure of it being a school night.
The fun gets going on Fri 1 Nov with the Mickleover Sports Fireworks Extravaganza at the Mickleover Sports Club; gates open at 5pm and there's a fairground for the kids, and an earlier display for younger ones at 6.15pm in advance of the main event at 8pm.
On Sun 3 Nov, you're spoiled for choice. At Colwick Racecourse, the My Sight Nottinghamshire Annual Firework Display (6.30pm) has food and drink and entertainment for the entire family, all in aid of My Sight Nottinghamshire, which helps support blind and visually impaired people in the county. Derby has its annual Bonfire and Fireworks (4pm, main display at 7pm), promoted by Derbyshire Country Cricket Club and Pattonair, featuring music from Capital FM. There's a funfair, plenty to eat and drink, and it's on a big scale, so advance booking might be a good idea. Mansfield Town FC has a fireworks display with a funfair and stalls at its own stadium on Field Mill Quarry Lane (from 5pm).
On actual bonfire night Nottingham Council's free fireworks display takes place at Forest Recreation Ground; there's a bonfire, fairground rides and not one but two big fireworks displays. The first one at 7.15pm is better suited for younger children, with the night being brought to a close with the 9pm display.
In Widmerpool on Fri 8 Nov, Keyworth Rugby Club is hosting its own firework display at 6.30pm, with hot food and drinks, a full bar and free parking. Alton Towers closes its 2019 season with its annual fireworks display over three nights on Fri 8, Sat 9 and Sun 10 Nov at 7pm, giving you a chance to try the rides until 9pm.
In Nottingham, there's the Robin Hood Festival of Fireworks at Nottingham Moderns RC (Sat 9 Nov, gates open 5pm). There's a hog roast, live music from local band Shades of Grey, a real ale tent and a kids' display at 7pm before the main display at 9pm. Bonfire lighting is at 7.30pm and there are plenty of other food and drink stalls for those that don't fancy hog.
If you'd prefer something a little more intimate, various scout groups are having firework displays. The 3rd Woodthorpe Scouts group has its display at Pepperpots Scouts Ground on Mapperley Plains Road (7.30pm, Sat 2 Nov), with traditional food and glowsticks available; this is a no-alcohol event. 4th Carlton Scouts has a display and bonfire (8pm, Sat 2 Nov) at Standhill Skateboard Park in King George V Playing Fields.