Andrew Garfield had reservations about working with Mel Gibson
Bang Showbiz
27 October 2017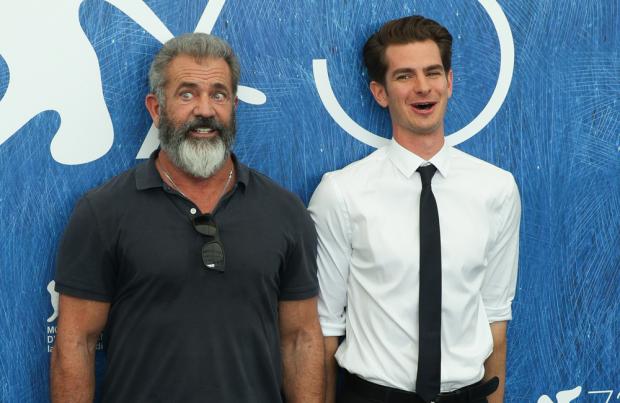 Andrew Garfield has revealed he had "long talks" with Hollywood legend Mel Gibson before agreeing to star in 'Hacksaw Ridge', because he had concerns about working with him
Andrew Garfield had "long talks" with Mel Gibson before starring in 'Hacksaw Ridge'.
The 34-year-old actor starred in the true story of pacifist United States Army corporal Desmond T. Doss - who refused to engage in combat during World War Two - and received critical acclaim for his portrayal of soldier.
However, Garfield initially hesitated before accepting the role due to Gibson's past bad behaviour which included his infamous anti-Semitic and "sugar t**s" rant which took place on July 28, 2006, when he was arrested by Jewish deputy James Mee of the Los Angeles County Sheriff's Department for driving under the influence after he was caught speeding in his vehicle with an open container of alcohol in Malibu, California.
The arrest report revealed the filmmaker exploded into his tirade after being informed by the arresting officer he would not be allowed to dive home where he went on to drunkenly say: "F***ing Jews ... the Jews are responsible for all the wars in the world. Are you a Jew?"
Garfield's father is a Jew and although he had a secular upbringing he identifies as a Jewish and he was worried about whether a working relationship could exist between him and Gibson, 61.
However, after speaking with Mike Nichols - an American filmmaker - Garfield spent a lot of time talking with Gibson to "get to know him properly" before signing a contract.
Speaking to The I Paper, Garfield said: "I had long talks with Mel before signing and I got to know him properly as opposed to what you read. We talked about everything and I got to a very sure place. I also spoke to a mentor of mine, who is no longer with us, Mike Nichols, and I asked him what he thought of Mel. He said, 'I think he's a tremendous filmmaker and I think you should go work for him'. We are two Jews, Mike and me, so that was the last push I needed. Mel is a wonderful man and director; and human and fallible, as we all are."
Garfield was nominated for an Oscar this year for his role in the war epic - the first nomination he has had - but lost out to Casey Affleck for his performance in 'Manchester By The Sea'.
'Hacksaw Ridge' tells the true story of Doss, who won the Congressional Medal of Honor, after being drafted and ostracised by fellow soldiers for his pacifist stance but won the respect and adoration for his bravery after risking his life to save 75 men in the Battle of Okinawa.