Get tickets for James Graham's Quiz at London's Noel Coward Theatre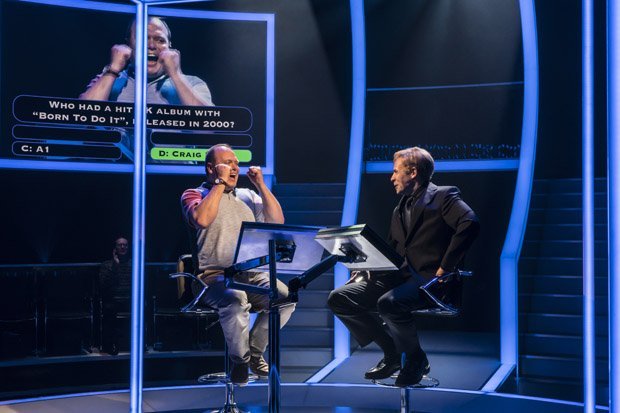 Chichester Festival Theatre hit heads to the West End in spring 2018
Quiz, the hit theatre show from James Graham, is transferring to the West End in 2018, with a run at the Noel Coward Theatre from Sat 31 Mar–Sat 16 Jun. Presale tickets are available from 9am on Mon 4 Dec, with tickets going on general sale from 10am on Wed 6 Dec.
Graham is one of the hottest playwrights in the UK, and is also the writer of stage hits Ink and Labour of Love. Directed by Daniel Evans, Quiz was widely acclaimed when it premiered at the Chichester Festival Theatre in Nov 2017. It's based on the infamous 'coughing' scandal that hit Who Wants to Be a Millionaire in 2001, in which Major Charles Ingram cheated to win the £1m jackpot (he was convicted of deception in 2003). The play takes a thorough look at the UK's love for TV quiz shows, and is an energetic and challenging re-examination of Ingram's conviction.
London audiences will already be familiar with Graham's work, thanks to the success of his play This House at The National Theatre in 2016. This House goes on a UK tour in 2018, beginning at Leeds' West Yorkshire Playhouse on 23 Feb.
Quiz's Chichester run – which is ongoing and continues until Sat 9 Dec – features Gavin Spokes as Charles Ingram and Keir Charles as Who Wants to Be a Millionaire host Chris Tarrant, but the London cast is yet to be announced.
Get Quiz presale tickets from 9am on Mon 4 Dec, and general sale tickets from 10am on Wed 6 Dec.