The Breeders return with new album and announce UK tour dates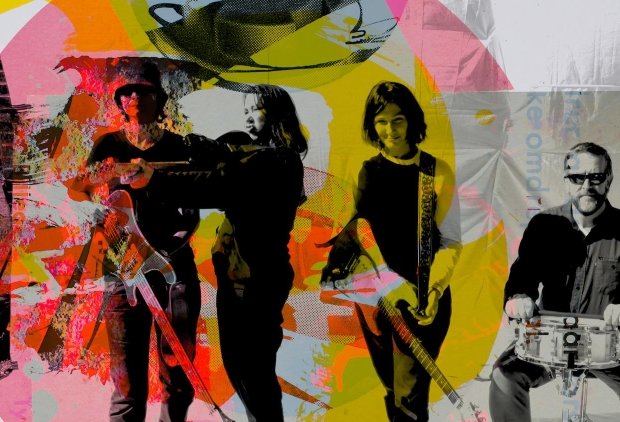 All Nerve sees the lineup who played on 1993's Last Splash reuinite, with 6 dates including shows in Edinburgh and London to support
The Breeders classic Last Splash lineup have reunited to make their first album together since 1993, and announced a new run of UK tour dates. Tickets for the shows go on sale at 9am on Fri 12 Jan.
The new LP, All Nerve features 'Wait in the Car', which we first heard back in October. After Last Splash, which featured the hits 'Cannonball' and 'Divine Hammer', the group released 2002's Title TK and 2008's Mountain Battles.
In support of the new record, Kim and Kelley Deal, Josephine Wiggs and Jim Macpherson return to Edinburgh – the city where Last Splash was recorded all those years ago – to perform at the Liquid Rooms on Mon 28 May. They play in Leeds the following night, finishing up the first half of the tour at London's Roundhouse on Wed 30 May. Returning In July, the group perform at Bristol's O2 Academy, Manchester's O2 Institute and Manchester's O2 Ritz.
All Nerve tracklisting:
1. Nervous Mary
2. Wait In The Car
3. All Nerve
4. MetaGoth
5. Spacewoman
6. Walking With The Killer
7. Howl At The Summit
8. Archangel's Thunderbird
9. Dawn: Making An Effort
10. Skinhead #2
11. Blues At The Acropolis
The Breeders UK tour dates 2018:
Mon 28 May – Liquid Rooms, Edinburgh
Tue 29 May – Leeds University Union
Wed 30 May – Roundhouse, London
Tue 10 Jul – O2 Academy, Bristol
Wed 11 Jul – O2 Institute, Birmingham
Fri 13 Jul – O2 Ritz, Manchester
Tickets for the tour go on sale at 9am on Fri 12 Jan.