NFL International Series: who is playing, when do tickets go on sale?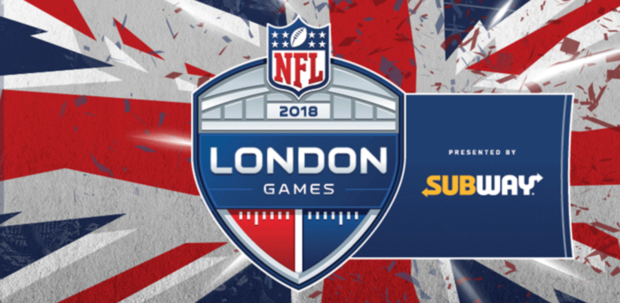 Tottenham Hotspur's new ground and Wembley Stadium will play host to three matches in October 2018
The NFL returns to London in 2018 with three hugely exciting fixtures lined up for fans of the sport in the UK. Since the first contest, held at Wembley Stadium in 2007 between New York Giants and Miami Dolphins, the London Games have gone from strength to strength, with the game's greats gracing the English turf, and musical acts from Tinie Tempah to My Chemical Romance performing at the pre-game show.
Who is coming to London in 2018
2018 will be a year of firsts with Seattle Seahawks, Philadelphia Eagles and Tennessee Titans all set to make their debut in London. The Seahawks will take on Oakland Raiders, the Eagles face Jacksonville Jaguars, and the Titans will do battle with Los Angeles Chargers.
When and where are the games taking place?
The first match, in week 6 of the season, between Seattle Seahawks and Oakland Raiders takes place on Sun 14 Oct, with Tottenham Hotspur's new stadium in North London set to host what will be its first NFL fixture. Philadelphia Eagles v Jacksonville Jaguars and Tennessee Titans v Los Angeles Chargers are both set for Wembley Stadium on week 7 (Sun 21 Oct) and week 8 (Sun 28 Oct) of the season, with the order still to be confirmed.
Until then
This weekend sees two of London's 2018 visitors in action, bidding for a place in the Super Bowl LII. Philadelphia Eagles take on Minnesota Vikings in the NFC Championship, and Jacksonville Jaguars take on the New England Patriots in the AFC Championship. The Super Bowl, one of the most thrilling sporting events of the year, takes place on Sun Feb 4 at the U.S. Bank Stadium in Minneapolis.
In the meantime, if you want to be kept in the loop for tickets, register your interest with Ticketmaster now. More information is still to be confirmed.
NFL London Games 2018:
Sun 14 Oct – Seattle Seahawks v Oakland Raiders (new White Hart Lane)
Sun 21 Oct/Sun 28 Oct – Philadelphia Eagles v Jacksonville Jaguars (Wembley Stadium)
Sun 21 Oct/Sun 28 Oct – Tennessee Titans v Los Angeles Chargers (Wembley Stadium)
Register your interest for the NFL London series now.