Austentatious to tour the UK in 2018, get tickets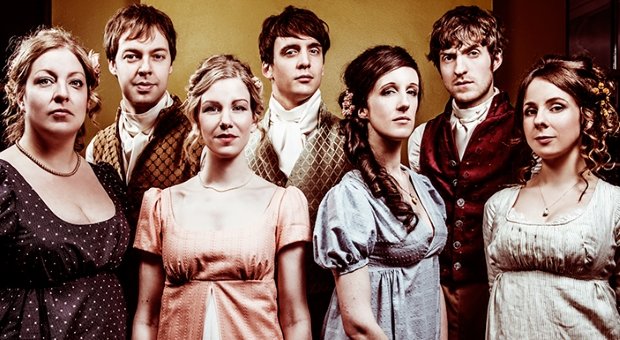 Improvised comedy play pays tribute to Jane Austen with a new show every night
Austentatious is to tour the UK this Autumn, with tickets on sale from 10am on Thu 8 Mar.
The improvised comedy play sees a cast of distinguished performers, including Joseph Morpurgo, Rachel Parris and Andrew Hunter Murray, deliver a new show every night, based on a title for a 'lost' Jane Austen novel suggested by audience members.
In recent years, the cast have delivered shows like 'Sixth Sense & Sensibility', 'Pride and Extreme Prejudice', 'Mansfield Shark' and 'Steve' (the sequel to Emma), receiving rave reviews and completing six successful Edinburgh Festival runs in that time.
The tour kicks off at Brighton Dome on Sun 23 Sep, running until Fri 2 Nov. Bring show ideas – you never know, it might just happen.
Austentatious UK tour dates 2018:
Sun 23 Sep – Brighton Dome, Brighton
Thu 4 Oct – Theatre Royal, Winchester
Fri 5 Oct – Riverfront Theatre, Newport
Sat 6 Oct – Octagon Theatre, Yeovil
Sun 7 Oct – Nuffield Theatre, Southampton
Wed 10 Oct – Playhouse, Oxford
Thu 11 Oct – Key Theatre, Peterborough
Sat 13 Oct – New Theatre Royal, Portsmouth
Wed 17 Oct – West Road Concert Hall, Cambridge
Thu 18 Oct – Mechanics, Burnley
Fri 19 Oct – Assembly Rooms, Ludlow
Sat 20 Oct – The Y, Leicester
Thu 25 Oct – Gatehouse Theatre, Stafford
Fri 26 Oct – Hertford Theatre
Tue 30 Oct – Hazlitt Theatre, Maidstone
Fri 2 Nov – The Rep, Birmingham

Tickets for Austentatious go on sale at Thu 8 Mar.