Get 30% off an educational activity box with KiwiCo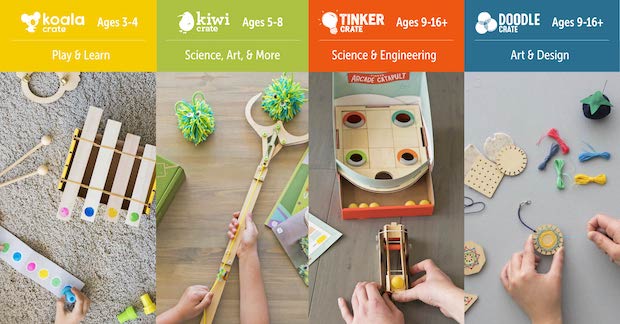 Inspire and create with an award-winning educational activity box subscription service.
KiwiCo provides an exciting, engaging and enriching art and science project crates for children aged 0-16. Each delivery arrives with the components to create, craft, design and learn from a brand new exciting STEAM project each month.
Choose from eight different lines of crates which cater to a variety of ages and cover geography, art, science, engineering and design.
KiwiCo Crate lines include:
- Koala Crate (2-4 years): encourage hands-on learning with high-quality craft materials, a parent guide and magazine.
- Yummy Crate (6-14 years): unlock the science of cooking with recipe cards and a Yummy Zine magazine.
- Tinker Crate (9-16+ years): discover fun STEM projects with materials for 3D projects including a blueprint, step-by-step guide and Tinker zine Magazine.
Choose a monthly, three-month, six-month or annual subscription to best suit your lifestyle and schedule and cancel or pause at any time. Visit the KiwiCo site, choose your plan and use the discount code LEARN30 at the checkout to save 30% on your first crate.
Best kids craft box subscription services perfect for lockdown

1 Jan 2021
From cooking to crafting, there are activity boxes to cater to all imaginations
The public may need to remain tucked away indoors as we head into 2021, but the joy of playing, crafting and gift-giving cannot be contained. Activity subscription boxes make fantastic presents for the little ones you love. Gift a subscription that will…
Terms & conditions
KiwiCo discount code valid against the first delivery for new customers only. Discount code cannot be used in conjunction with any other offer.